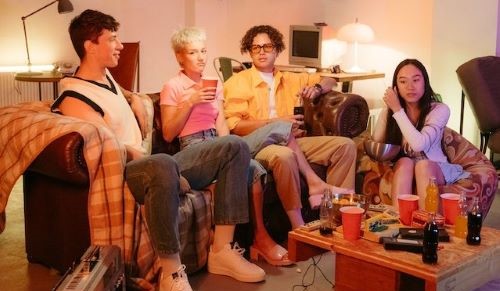 Je nodigt een paar potentiële huisgenoten uit om het huis te bekijken en om zichzelf voor te stellen. Ofwel in tijdblokken van telkens zo'n twintig minuten, ofwel (gruwel!) allemaal tegelijk. Daarna ga je met je huidige huisgenoten lekker over ze roddelen, en kies je er samen eentje uit. De hospiteeravond. Hoe zeg je dat in het Engels, vroeg iemand mij op mijn contactpagina. Goede vraag!
In het Engels is de algemene term het saaie "roommate interview". In het Engels noemen ze een sollicitatiegesprek ook een "interview", en dat is de vergelijking die wordt gemaakt. Het gaat dus niet om het soort interview dat een journalist doet.
Als je denkt "ik heb die term nog nooit gehoord" of "klinkt veel te officieel". Klopt allebei. Dit is zo'n term die we in het Nederlands hebben en veel gebruiken, terwijl ze er in het Engels meestal omheen praten.
Nederlands
Engels
Ik zoek een kamer, ik heb vanavond twee hospiteeravonden.

Ik zoek een kamer, ik heb vanavond twee kijkavonden.

Ik zoek een kamer, ik ga vanavond twee keer hospiteren.
I'm looking for a room. I have two roommate interviews this evening.

Wat ze eerder zullen zeggen:
I'm looking for a room. I'm checking out two places this evening.
Sandra vertrekt volgende maand, dus ik moet een hospiteeravond organiseren.
Sandra is leaving next month, so I have to organise roommate interviews.

Wat ze eerder zullen zeggen:
Sandra is leaving next month, so I have to get everyone together to choose a new flatmate.
Telkens afgewezen worden is frustrerend. Je moet gewoon blijven hospiteren.
Getting rejected each time is frustrating. You just have to keep going to interviews.

Wat ze eerder zullen zeggen:
Getting rejected each time is frustrating. You just have to keep trying.
Oh, ik was bijna vergeten dat er vanavond hospiteerders komen.
Oh, I almost forgot we are meeting some potential new flatmates this evening.
Ik heb in een groep native speakers de vraag uitgezet of er echt geen betere Engelse termen te verzinnen zijn, maar tot nu toe heeft niemand nog een goed ander idee. Jij wel? Ik hoor het graag in de comments!
"Roommate", "flatmate" of "housemate"?
Eigenlijk een eigen artikeltje waard, maar voor nu even hier:
In Amerika zeg je meestal "roommate". Dit kan iemand zijn die letterlijk een kamer met je deelt, een fenomeen dat je van Amerikaanse college-films vast wel zult kennen. Maar het kan ook, onlogischerwijze, iemand zijn die een huis of flat met je deelt.
In de UK zijn we wat logischer, daar noem je iemand waar je een kamer mee deelt een "roommate", iemand waar je een flat mee deelt een "flatmate" en iemand waar je een huis mee deelt een "housemate". Er zijn veel meer "flatmates" in de UK dan de andere twee soorten, puur omdat de huizenmarkt daar zo in elkaar zit, waardoor "flatmate" meestal de algemene term is die je kiest als je niet zeker weet om wat voor situatie het gaat.
(Mensen met huisgenootervaring in een Engelstalig land, verbeter me graag! Ik woonde in Londen bij een hospita, want dat was dichter bij mijn werk, en ik had geen zin in elke dag Londens openbaar vervoer.)
Hospiteeravond of kijkavond?
Toen ik als student van Nijmegen naar Utrecht verhuisde moest ik er enorm aan wennen, dat de "kijkavond" ineens "hospiteeravond" genoemd werd. Ik had het woord "hospiteren" nog nooit gehoord! Maar na een paar jaar Utrecht had ik door dat de term "hospiteren" gebruikelijker is in Nederland.
Hoe wordt (of werd) een hospiteeravond in jouw studentenstad genoemd? En hoe werd het georganiseerd? Ik hoor het graag in de comments!
En zo gaat hospiteren in Schotland:
Scene uit de film Shallow Grave (1994)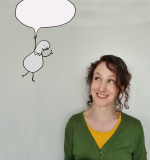 Heddwen Newton is an English teacher and a translator from Dutch into English. She thinks about languages way too much, for example about how strange it is that these little blurb things are written in the third person.

Heddwen has two passports, two children, two smartphones, two arms, two legs, and two email newsletters.

Reader feedback for the newsletter English and the Dutch, which examines all the ways Dutch speakers interact with the English language.
"It's funny, it's informative, I truly love it! Keep it up :)"
"It is amusing and funny but also educational. Bonus: it's about real life situations."
"Weer wat leuke dingen geleerd en erg gelachen om het filmpje!"
Reader feedback about the other newsletter, English in Progress, which is about how the English language is evolving and how it is spoken around the world:
"Wonderful work! I thoroughly enjoy these newsletters, and use some of the info while teaching English to my students."
"Love the variety, and the friendly informal tone!"
Also, academic Lynne Murphy, author of The Prodigal Tongue, about the differences between American and British English, recommended my newsletter in her newsletter. I was chuffed (BrE) and stoked (AmE)!
Meer lezen? GA NAAR EEN WILLEKEURIG ARTIKEL
Disclaimer: deze site is geen woordenboek. Mijn vertalingen zijn de meningen van één mens, en mijn voorbeelden zijn zelfverzonnen. Meer weten? Kijk dan bij de veelgestelde vragen.
Bron foto: Mart Production, Pexels