Wat betekent het?
In deze post wil ik het hebben over "overzien" in de betekenis dat je bv een probleem kunt overzien; je kunt alle informatie die met het probleem te maken heeft tot je nemen en begrijpen.
"Overzien" heeft ook andere betekenissen, maar die zijn niet zo problematisch. Ik zal ze hieronder in de tabel ook even meenemen.
Wat is het probleem
In de betekenis van "een probleem overzien" is "overzien" een false friend. De vertaling is namelijk NIET *to oversee*. "To oversee" betekent bewaken, surveilleren, toezicht houden.
Ik heb trouwens ook voor "overzicht hebben", "overzicht" en "overzichtelijk" artikelen geschreven, klik daarvoor op de onderstreepte woorden.
Voorbeeldvertalingen voor "overzien" in de betekenis van informatie tot je nemen
Hij kan het probleem niet overzien.
He cannot grasp the whole of the problem.
He doesn't understand all the ins and outs of the problem.
The problem is too big. He just can't take it in.
De gevolgen zijn niet te overzien.
The consequences are unfathomable. (= niet te begrijpen)
The consequences are immense. (= groot)
The consequences are catastrophic. (= vreselijk)
De dictator overziet de menigte.
The dictator surveys the crowd.
Voorbeeldvertalingen "overzien" in de betekenis van monitoren
Die organisatie overziet de geldstromen.
That organisation monitors the flow of money.
That organisation oversees the flow of money.
De manager overziet zijn werknemers.
The manager oversees his employees.
The manager supervises his employees.
Dit artikel is op 27-01-2022 bijgewerkt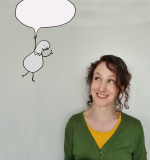 Heddwen Newton is an English teacher and a translator from Dutch into English. She has two email newsletters:
English and the Dutch is for Dutch speakers looking to improve their English, but also for near-native speakers who write, translate into, or teach English. Also interesting for people who like to compare Dutch-speaking culture to everybody else in the world.
English in Progress keeps English speakers up to date on the latest developments in the English language. Subscribers are mostly academics, English teachers, translators and writers.
Meer lezen? GA NAAR EEN WILLEKEURIG ARTIKEL
Disclaimer: deze site is geen woordenboek. Mijn vertalingen zijn de meningen van één mens, en mijn voorbeelden zijn zelfverzonnen. Meer weten? Kijk dan bij de veelgestelde vragen.