Als ik het woord "overzichtelijk" hoor dan denk ik aan informatie die netjes is opgedeeld in tabellen of alinea's waardoor ik in één keer goed kan zien waar het over gaat. Of aan spullen die overzichtelijk zijn ingedeeld; alles in het juiste vakje, precies waar het hoort, en je weet meteen waar je iets vinden moet. Ik ken geen Engelse vertaling die "overzichtelijk" echt goed vat.
Als vertaling voor "overzichtelijk" wordt meestal "clear" gebruikt, maar dat is natuurlijk alleen juist in de betekenis van "duidelijk" of (de letterlijke vertaling) "helder".
Zoals altijd doe ik toch een poging om een goede Engelse vertaling te vinden. Hieronder een overzichtelijk (haha, ik ben te grappig) tabelletje.
Deze informatie is overzichtelijk.
This information is clear. (= helder)
This information is well organized.
This information has been clearly structured.
This information is easy to understand.
Een overzichtelijke app.
An easy-to-use app.
An easy-to-understand app.
A well-structured app.
De kamer is overzichtelijk ingericht.
The room is well organized.
It's easy to find what you need in this room.
Everything has its place in this room.
Ik ben het overzicht kwijt.
I'm lost.
You've lost me there.
I'm having trouble keeping track of all the information.
Een overzichtelijke powerpoint.
A well-structured Powerpoint presentation.
A clear Powerpoint presentation.
En hoe zit het dan met "overzicht"?
Daar heb ik ook een artikel over geschreven, die vind je hier.
Help je mee dit artikel te verbeteren?
Ik ben ook maar een mens, en soms heb ik iets mis. Weet jij een vertaling die ik nog niet had verzonnen, of heb je iets anders over dit artikel aan te merken? Ik hoor het heel graag! Laat het me hieronder weten, of stuur een mail naar info (a) hoezegjeinhetEngels.nl. Ik pas zo nodig mijn artikel aan, zodat bezoekers aan mijn site altijd de best mogelijke informatie krijgen!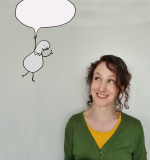 Heddwen Newton is an English teacher and a translator from Dutch into English. She has two email newsletters:
English and the Dutch is for Dutch speakers looking to improve their English, but also for near-native speakers who write, translate into, or teach English. Also interesting for people who like to compare Dutch-speaking culture to everybody else in the world.
English in Progress keeps English speakers up to date on the latest developments in the English language. Subscribers are mostly academics, English teachers, translators and writers.
Meer lezen? GA NAAR EEN WILLEKEURIG ARTIKEL
Disclaimer: deze site is geen woordenboek. Mijn vertalingen zijn de meningen van één mens, en mijn voorbeelden zijn zelfverzonnen. Meer weten? Kijk dan bij de veelgestelde vragen.