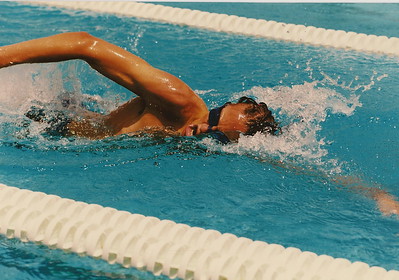 Behalve een rat-achtig beest dat in en om het water leeft (officiële naam: woelrat) gebruiken we in het Nederlands de term 'waterrat' om te verwijzen naar iemand die heel goed kan zwemmen en er ook veel plezier aan heeft. Soms zie je het ook als verwijzing naar een zeer ervaren zeeman, maar eigenlijk klopt dat niet echt. Het gaat meer om zwemmen. In het Engels is die rat geen rat, ik bespreek hieronder wat de vertaling dan wel is.
Er is geen hele goede Engelse vertaling voor 'waterrat', dus je zult het meestal moeten doen met het supersaaie 'someone who loves (the) water' of 'someone who is in their element in the water'.
Wil je een vergelijking met een dier, dan is 'they swim like a fish' de beste uitdrukking om te kiezen.
Je kunt ook een grapje maken met 'mermaid' (of 'merman') of je kunt iets zeggen als 'it's a wonder you haven't grown gills yet!' (een wonder dat je nog geen kieuwen hebt), Dat zijn geen gevestigde uitdrukkingen, maar wel voor iedereen begrijpelijk.
Heb je het over een waterrat óp het water in een boot, in plaats van ín het water, dan kun je kiezen voor "water dog". Een ervaren zeeman kun je "an old salt" noemen, dat is zoals als 'een oude rot'. Maar die kan niet per se goed zwemmen.
Over deze vertalingen heb ik wat te mekkeren:
In het Engels noem je iemand die heel erg van water houdt een 'aquaphile'. Aqua = water en phile is een toevoeging om aan te geven dat iemand op het eerste deel van het woord dol is. Er zijn erg veel van dit soort -phile woorden, bijvoorbeeld cinephile, iemand die dol is op films. Hier een lijst. Het vervelendste woord van deze soort is natuurlijk 'pedophile', waardoor je andere woorden op -phile misschien ook negatief vindt klinken, maar dat is voor een Engelstalige over het algemeen niet aan de orde.
Ik heb wel een ander probleem met 'aquaphile' en dat is dat het geen bekend woord is in het Engels. Een Engelstalige die veel van zijn of haar eigen taal weet zal de betekenis meteen snappen, maar een anderstalige of een wat minder geschoolde native speaker zal dit woord niet kennen, vrees ik.
Als Britse telg van een boekminnende familie ben ik meer gecharmeerd van de vertaling 'water baby'. Deze term komt van een klassiek boek uit 1863 over kinderen die onder water leven. Mijn moeder heeft hem nog aan me voorgelezen.
Het boek is nu in de vergetelheid aan het raken, en het 'baby' van 'water baby' kan helaas tot verwarring leiden bij mensen die de term niet kennen, dus met pijn in mijn hart moet ik toegeven dat dit misschien ook geen hele goede vertaling is.
Ik zie online de letterlijke vertaling 'water rat'. Kijk, mensen zullen dan wel begrijpen wat je bedoelt, denk ik, maar het is geen vaste term in het Engels, en als je iemand in het Engels een 'rat' noemt dan bedoel je, net als in het Nederlands, dat die persoon listig en achterbaks is. Ik zou het dus niet doen! (Daarmee is 'waterrat' ook een false friend.)
Oh, nog eentje die niet zo goed werkt. In het Engels hebben we de uitdrukking 'to take to something like a duck to water' maar dan heb je het niet letterlijk over het water, maar gewoon over een bezigheid waar die persoon heel goed in blijkt te zijn. 'I wasn't sure if John would like tapdancing, but he took to it like a duck to water!'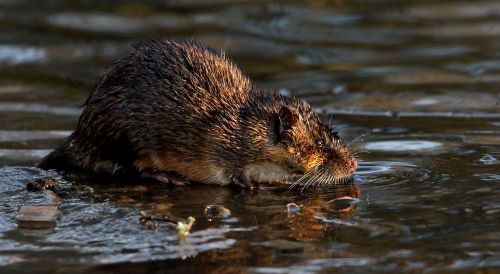 Dit artikel is op 24-09-2022 bijgewerkt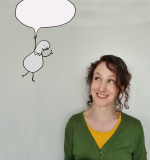 Heddwen Newton is an English teacher and a translator from Dutch into English. She has two email newsletters:
English and the Dutch is for Dutch speakers looking to improve their English, but also for near-native speakers who write, translate into, or teach English. Also interesting for people who like to compare Dutch-speaking culture to everybody else in the world.
English in Progress keeps English speakers up to date on the latest developments in the English language. Subscribers are mostly academics, English teachers, translators and writers.
Meer lezen? GA NAAR EEN WILLEKEURIG ARTIKEL
Disclaimer: deze site is geen woordenboek. Mijn vertalingen zijn de meningen van één mens, en mijn voorbeelden zijn zelfverzonnen. Meer weten? Kijk dan bij de veelgestelde vragen.
In bovenstaand artikel staan een of meerdere links naar Bol.com. Als je via deze links iets koopt dan verdien ik daar een klein beetje geld mee. Voor jou kost het niets extra; het is precies even duur als wanneer je direct naar Bol.com was gesurfd.
Bron foto: flickr.com/photos/ankarino, flickr.com/photos/blachswan (cropped), CC BY 2.0