Hier had vandaag eigenlijk een artikel moeten staan over het liggende streepje voor mijn serie over leestekens, maar jongens, dat liggende streepje is echt een hoofdbreker! Die komt dus volgende week. Dus vandaag een minitip.
Hoe zorg je dat "idea" niet klinkt als "ID"?
Nederlanders spreken het woord 'idea' vaak uit als 'ID' (= identiteitsbewijs). Nu ben ik minder streng als het op uitspraak aankomt dan veel andere docenten Engels, ik ben namelijk van mening dat Engelstaligen vaak prima begrijpen wat je bedoelt, óók als je het een tikkeltje anders uitspreekt.
Maar in dit geval bouw je vaak een zin als 'I have no ID' of 'Do you have an ID?' en die zinnen passen prima voor 'idea' én voor 'ID' waardoor het voor een toehoorder best verwarrend kan zijn.
'Idea' heeft drie lettergrepen. De laatste twee worden snel achter elkaar uitgesproken, maar ze zijn er echt. Op zijn Nederlands uitgeschreven: ai-die-ja.
Mijn tip: als docent heb ik gemerkt dat het helpt als Nederlanders er een 'r' achter denken, dus *idear*. Als je dat dan op zijn Brits Engels uitspreekt (dus zonder de 'r' daadwerkelijk te zeggen) dan heb je vaak de juiste uitspraak te pakken.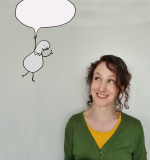 Heddwen Newton is an English teacher and a translator from Dutch into English. She has two email newsletters:
English and the Dutch is for Dutch speakers looking to improve their English, but also for near-native speakers who write, translate into, or teach English. Also interesting for people who like to compare Dutch-speaking culture to everybody else in the world.
English in Progress keeps English speakers up to date on the latest developments in the English language. Subscribers are mostly academics, English teachers, translators and writers.
Meer lezen? GA NAAR EEN WILLEKEURIG ARTIKEL