Wat betekent het?
"Adequaat" betekent in het Nederlands "passend" of "precies juist voor het beoogde doel". Als iemand "adequaat handelt" dan doet hij/zij het juiste. Als de regering "adequaat reageert" dan kan iedereen tevreden zijn.
Wat is het probleem?
Adequaat is een valse vriend van het naardere soort, omdat de betekenissen heel dicht bij elkaar liggen en ook vaak in dezelfde soort zinnen gebruikt worden. Veel mensen hebben daarom niet door dat het Engelse woord "adequate" net iets anders betekent.
"Adequate" betekent in het Engels namelijk "(net) goed genoeg". "He responded adequately" betekent dus "hij reageerde goed genoeg, (maar het had beter gekund)."
We gebruiken "adequate" in het Engels overigens meestal in negatieve zin, "they didn't provide adequate food for the children" = het eten voor de kinderen was niet goed genoeg. (te weinig, of van te slechte kwaliteit). Zo'n zin zou in het Nederlands ook werken met "adequaat", vandaar ook dat het betekenisverschil mensen vaak niet opvalt, ook mensen die erg goed Engels kunnen. Dit gaat op online woordenboeken dan ook erg vaak mis.
Hoe vertaal je "adequaat" naar het Engels?
Een betere vertaling voor het Nederlandse "adequaat" is "appropriately" of "properly".
Hij reageerde adequaat.
He responded appropriately.
He responded properly.
His response was appropriate.
Je hebt adequaat gehandeld.
You acted appropriately.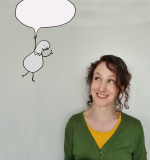 Heddwen Newton is an English teacher and a translator from Dutch into English. She has two email newsletters:
English and the Dutch is for Dutch speakers looking to improve their English, but also for near-native speakers who write, translate into, or teach English. Also interesting for people who like to compare Dutch-speaking culture to everybody else in the world.
English in Progress keeps English speakers up to date on the latest developments in the English language. Subscribers are mostly academics, English teachers, translators and writers.
Meer lezen? GA NAAR EEN WILLEKEURIG ARTIKEL
Disclaimer: deze site is geen woordenboek. Mijn vertalingen zijn de meningen van één mens, en mijn voorbeelden zijn zelfverzonnen. Meer weten? Kijk dan bij de veelgestelde vragen.