Wat betekent het?
In het Nederlands betekent "solliciteren" dat je tegen een potentiële werkgever zegt: "zou je mij een baan willen geven?" Dat gaat meestal met een formele e-mail waar je je CV bijvoegt, maar je kunt ook solliciteren door iemand op te bellen of fysiek langs te gaan.
Wat is het probleem?
"Solliciteren" is een klassieke false friend omdat de betekenis van het Engelse woord "solicit" erg, uhm, hachelijk kan zijn. "To solicit" kan namelijk betekenen dat je een prostituee bent en klanten probeert te krijgen, bijvoorbeeld door op straat mannen aan te spreken. "She was arrested for solliciting."
Geen handige fout om te maken dus! Voor ons docenten Engels ook altijd een fijn moment als we dit aan pubers moeten uitleggen, trouwens…
"To solicit" heeft overigens ook een neutrale betekenis, namelijk "vragen naar" ("I'd like to solicit your help"), maar het is een erg formeel en geen veelgebruikt woord. In de context van een banenzoektocht zou ik het niet gebruiken.
Heb je dit woord ooit verkeerd gebruikt en iets gezegd als "I would like to solicit for a job at your company," wees gerust, de Engelstalige lezer heeft zeker wel begrepen dat je de tweede betekenis bedoelde en niet de eerste. Ze zullen misschien hebben geglimlacht, maar als ze veel brieven krijgen van Nederlanders zullen ze het ook allang gewend zijn, want het is een veelgemaakte fout!
Hoe vertaal je "solliciteren" naar het Engels?
"Solliciteren" is in het Engels "to apply for (a position)".
Een standaard openingszin van een sollicitatiebrief zou dus zijn "I am writing in order to apply for the position of IT technician at company X."
(Het advies dat je zo'n brief niet met "I" zou mogen beginnen is oudbakken, daar zal ik in de toekomst nog een keer een artikel aan wijden!)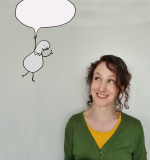 Heddwen Newton is an English teacher and a translator from Dutch into English. She has two email newsletters:
English and the Dutch is for Dutch speakers looking to improve their English, but also for near-native speakers who write, translate into, or teach English. Also interesting for people who like to compare Dutch-speaking culture to everybody else in the world.
English in Progress keeps English speakers up to date on the latest developments in the English language. Subscribers are mostly academics, English teachers, translators and writers.
Meer lezen? GA NAAR EEN WILLEKEURIG ARTIKEL
Disclaimer: deze site is geen woordenboek. Mijn vertalingen zijn de meningen van één mens, en mijn voorbeelden zijn zelfverzonnen. Meer weten? Kijk dan bij de veelgestelde vragen.