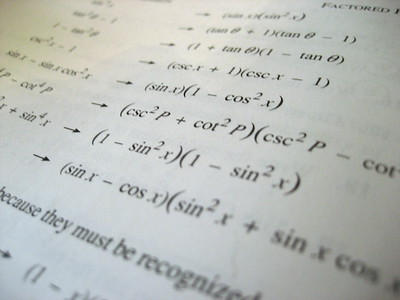 Wat betekent "wiskunde B"?
Nederlandse middelbare scholen (havo en vwo niveau) kennen een onderscheid tussen Wiskunde A en B (sinds 2007 ook C en D). Wiskunde A gaat vooral over statistiek en is het soort wiskunde dat je nodig hebt voor de sociale wetenschappen. Wiskunde B is wat meer de "pure" wiskunde en gaat bijvoorbeeld over meetkunde en analyse. Wiskunde B is het soort wiskunde dat je nodig hebt voor de exacte vakken.
Wat is het probleem?
De toevoeging van de letter "B" achter "wiskunde B" is willekeurig en wordt alleen in Nederland zo gebruikt. Als je in het Engels "mathematics B" zegt dan is dat dus voor iedereen buiten Nederland volkomen betekenisloos.
Hoe kun je "Wiskunde B" het beste naar het Engels vertalen?
Aangezien het onderscheid tussen wiskunde A, B, C en D iets is dat men in het buitenland niet kent, is het beter om een korte beschrijving te geven van het soort wiskunde dat behandeld wordt. Hieronder een aantal opties:
Wiskunde A
Mathematics for social studies
Mathematics (graphs and statistics)
Statistics
Wiskunde B
Mathematics for scientific studies
Mathematics for the hard sciences
Mathematics (analysis and geometry)
Wiskunde C
Mathematics for art studies
Mathematics (graphs and data)
Wiskunde D
Advanced mathematics
NB In Amerika zeggen ze "math", in Engeland zeggen ze "maths". Voor alle andere landen zou ik "mathematics" aanraden want dat begrijpt iedereen dus dan weet je zeker dat je goed zit.
Help je mee dit artikel te verbeteren?
Ik ben ook maar een mens, en soms heb ik iets mis. Weet jij een vertaling die ik nog niet had verzonnen, of heb je iets anders over dit artikel aan te merken? Ik hoor het heel graag! Laat het me hieronder weten, of stuur een mail naar info (a) hoezegjeinhetEngels.nl. Ik pas zo nodig mijn artikel aan, zodat bezoekers aan mijn site altijd de best mogelijke informatie krijgen!
Grappig plaatje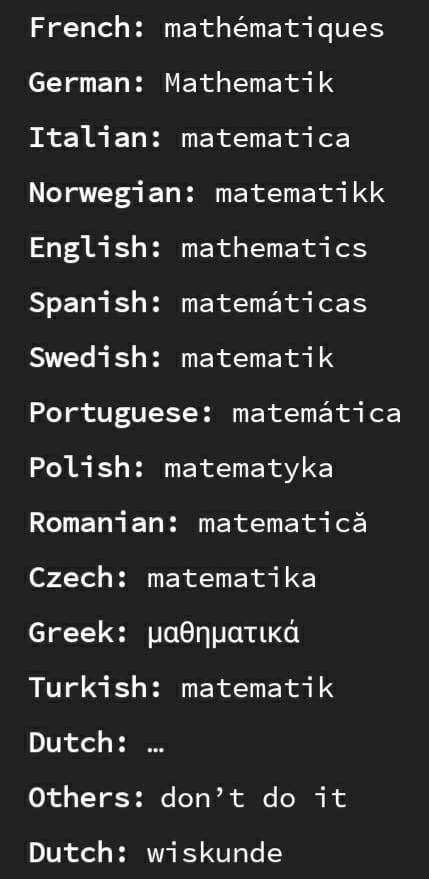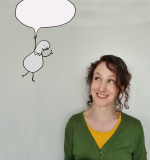 Heddwen Newton is an English teacher and a translator from Dutch into English. She has two email newsletters:
English and the Dutch is for Dutch speakers looking to improve their English, but also for near-native speakers who write, translate into, or teach English. Also interesting for people who like to compare Dutch-speaking culture to everybody else in the world.
English in Progress keeps English speakers up to date on the latest developments in the English language. Subscribers are mostly academics, English teachers, translators and writers.
Meer lezen? GA NAAR EEN WILLEKEURIG ARTIKEL
Disclaimer: deze site is geen woordenboek. Mijn vertalingen zijn de meningen van één mens, en mijn voorbeelden zijn zelfverzonnen. Meer weten? Kijk dan bij de veelgestelde vragen.