Wat betekent het?
Als iemand zegt "hee, dat heb je goed gedaan, applaus voor jezelf!" (of "applausje voor jezelf") dan betekent dat dat diegene vindt dat je trots op jezelf mag zijn.
Wat is het probleem?
*Applause for yourself* of *clap for yourself* of iets dergelijks is geen uitdrukking in het Engels.
Soms kun je een Nederlandse uitdrukking toch letterlijk vertalen, ookal wordt het in het Engels niet als uitdrukking gebruikt, omdat de betekenis voor iedereen duidelijk is. In dit geval gaat dat niet op.
Sommige vertalers denken abusievelijk dat "appaus voor jezelf" om pochen gaat; dus dat je jezelf heel goed vind terwijl je eigenlijk niet zo goed bent. Zij kiezen dan een vertaling als *blow your own trumpet*. Maar deze vertaling klopt niet; "applaus voor jezelf" wordt (naar mijn mening) in het Nederlands altijd op een positieve manier gebruikt. Je mag écht trots op jezelf zijn, dat wat je hebt gedaan is écht goed.
(Het kan natuurlijk wel sarcastisch gebruikt worden, maar dan gaat het niet om over jezelf opscheppen.)
Hoe vertaal je "applaus voor jezelf" naar het Engels?
De beste vertaling is "you can pat yourself on the back (for that)" of het wat simpelere "you can congratulate yourself (for that)". Spreek je meerdere mensen toe, dan wordt het "yourselves".
Help je mee dit artikel te verbeteren?
Ik ben ook maar een mens, en soms heb ik iets mis. Weet jij een vertaling die ik nog niet had verzonnen, of heb je iets anders over dit artikel aan te merken? Ik hoor het heel graag! Laat het me hieronder weten, of stuur een mail naar info (a) hoezegjeinhetEngels.nl. Ik pas zo nodig mijn artikel aan, zodat bezoekers aan mijn site altijd de best mogelijke informatie krijgen!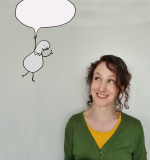 Heddwen Newton is vertaler en docent Engels. Naast hoezegjeinhetEngels.nl werkt ze sinds oktober 2022 aan "English in Progress", de Engelstalige versie van "Taalpost". Die bestond namelijk nog niet!
Disclaimer: deze site is geen woordenboek. Mijn vertalingen zijn de meningen van één mens, en mijn voorbeelden zijn zelfverzonnen. Meer weten? Kijk dan bij de veelgestelde vragen.