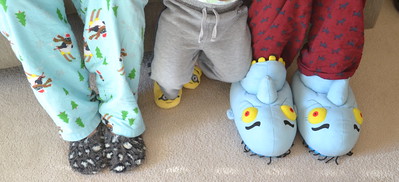 Ik kreeg via email de volgende vraag van Leonie:
Ik zou zo graag willen weten of 'slippers' het enige woord is in het Engels voor pantoffels? Het lijkt mij dat er een gezelliger knusser woord moet zijn voor pantoffels 🙂
Ik voel dit helemaal! Het Nederlandse woord "pantoffel" is een warm, gezellig woord terwijl het Engelse "slipper" klinkt als iets waar je snel in en uitglipt en waar niets warms aan is. Dit beeld wordt voor Nederlanders natuurlijk versterkt door het feit dat ons soort slipper weinig meer is dan een lapje plastic is voor 's zomerse dagen.
Daarmee is "slipper" een false friend, en hij is dan ook afgelopen vrijdag voorbijgekomen voor mijn False Friend Friday.
Voor nu, puur even over de pantoffel: ik heb het voor de zekerheid nagevraagd in een groep native speakers van over de hele wereld, en ik moet Leonie teleurstellen. In elke soort Engels heten die dingen "slippers". Geen gezelliger of knusser woord te bekennen!
Je kunt hoogstens wat toevoegen om de vorm wat nader te omschrijven, "bootie slippers" voor hoge pantoffels, "hotel slippers" of "mule slippers" voor die lage dingen waar je hiel vrij blijft, "novelty slippers" voor het grappige soort pantoffel zoals dat blauwe hoofd in het plaatje hierboven, "mocassin slipper" voor zo'n schoen-achtige pantoffel van lichtbruin leer met een klein strikje, enzovoort. (google ze even als je een beeld nodig hebt)
Maar deze termen zijn meer iets voor de schoenen-industrie en zijn geen benamingen die normale Engelstaligen veel gebruiken, die zeggen gewoon "slipper".
Heb je een moeilijk te vertalen woord?
Is er een woord of uitdrukking waarvoor je geen goede Engelse vertaling kunt vinden? Laat het me weten op mijn contactpagina, en ik probeer zo snel mogelijk te reageren.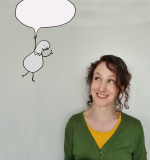 Heddwen Newton is an English teacher and a translator from Dutch into English. She has two email newsletters:
English and the Dutch is for Dutch speakers looking to improve their English, but also for near-native speakers who write, translate into, or teach English. Also interesting for people who like to compare Dutch-speaking culture to everybody else in the world.
English in Progress keeps English speakers up to date on the latest developments in the English language. Subscribers are mostly academics, English teachers, translators and writers.
Meer lezen? GA NAAR EEN WILLEKEURIG ARTIKEL
Disclaimer: deze site is geen woordenboek. Mijn vertalingen zijn de meningen van één mens, en mijn voorbeelden zijn zelfverzonnen. Meer weten? Kijk dan bij de veelgestelde vragen.
Bron foto: flickr.com/photos/larrywkoester, CC BY 2.0