Het is tijd voor een beetje meer regelmaat op deze website en daarom ga ik werken met themadagen. De vrijdag wordt False Friend Friday, oftewel Valse Vriend Vrijdag – klinkt in het Nederlands ook leuk!
Goede vrienden en valse vrienden
Nederlands en Engels zijn familie van elkaar, ze zijn zelfs behoorlijk nauw verwant, en daarom zijn er veel woorden in beide talen die op elkaar lijken. Meestal zijn dat goede vrienden, ze betekenen daadwerkelijk hetzelfde. "Door" en "deur", bijvoorbeeld, of "grass" en "gras". Engels en Nederland hebben ook gemeen dat ze allebei veel woorden uit het Frans hebben geleend, waardoor die woorden ook vaak hetzelfde betekenen. "Police" en "politie" of "contract" en "contract", bijvoorbeeld.
Maar soms gaat het mis…
Wat is een Valse Vriend?
Een False Friend, oftewel Valse Vriend, is een woord dat in de ene taal lijkt op een woord in de andere taal, waardoor je denkt dat ze vast hetzelfde betekenen, maar dat doen ze niet. Zo is het Engelse woord "small" (klein) niet hetzelfde als het Nederlandse woord "smal" (dun).
Nep Engels
Een aparte categorie False Friends zijn woorden die we uit het Engels gehaald hebben, maar die voor een Engelstalige iets heel anders betekenen dan voor een Nederlandstalige. Een klassiek voorbeeld is "beamer". Zo'n ding dat beelden op de muur projecteert heet in het Engels een "projector", een "beamer" is voor een Engelstalige een auto van het merk BMW.
Dit soort woorden vallen voor mij ook onder de categorie "False Friends", en ze komen dus ook op de vrijdagen aan bod, maar ik geef ze ook een aparte categorie mee. Via deze link kun je de artikelen uit het verleden bekijken.
Elke vrijdag een valse vriend
Ik ga dus elke vrijdag een valse vriend bespreken. Ik schrijf die artikeltjes vantevoren en plan het dan zo dat ze 's ochtends vroeg online komen. Zo kun je elke vrijdag naar deze site surfen om wat nieuws te leren 🙂
En ben je benieuwd welke woorden er in het verleden besproken zijn, dan kun je hier klikken.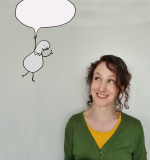 Heddwen Newton heeft intussen al 555 woorden en uitdrukkingen behandeld op hoezegjeinhetEngels.nl. Voor 2 Euro kun je haar daarvoor bedanken. Heddwen is docent en vertaler Engels.