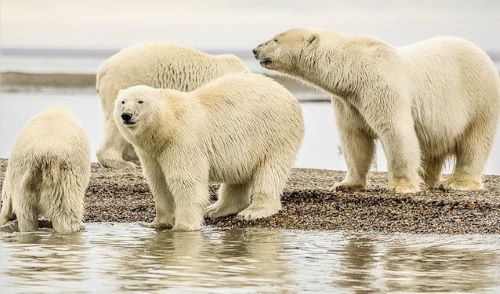 Hij staat vaak in rijtjes onvertaalbare Nederlandse woorden, daarbij is het idee van "ijsberen", op en neer lopen omdat je zenuwachtig bent of je verveelt, helemaal niet zo moeilijk in het Engels te vatten. In het Engels hebben we daarvoor het werkwoord "to pace" (= op en neer lopen/ schrijden… ijsberen, dus). Vaak zegt men iets als "to pace up and down" of "to pace around the house".
Over "ijsbeer", "ice bear" en "polar bear"
Het lijkt zo logisch om "ijsbeer" te vertalen naar "ice bear", maar zo heet de gevaarlijke reus in principe niet in het Engels. Een ijsbeer heet in het Engels een "polar bear" (= poolbeer), omdat hij vlak bij de noordpool woont.
Nu zegt Wikipedia dat je een "polar bear" ook een "ice bear" kunt noemen. Ik had daar zelf nog nooit van gehoord, maar ik ben een Engels corpus ingedoken en het wordt inderdaad soms gebruikt; vaak in een literaire context (er zijn meerdere boeken die zo heten), of anders omdat de schrijver in kwestie het woord "polar bear" al heeft gebruikt, en wilde afwisselen.
"Ice bear" is ook de naam van een getekende ijsbeer in de Cartoon Network serie "We Bare Bears" die van 2015 tot 2019 op TV was.
Wil je als Nederlander eigenwijs zijn en aan het woord "ice bear" vasthouden (Nederlanders zijn graag eigenwijs als het op hun Engels aankomt, kan ik als docent berichten), dan kun je best goedpraten dat je "ice bear" zegt. Toch raad ik het af, ten eerste omdat het klinkt alsof je een taalfout maakt, ten tweede omdat het met een Nederlands accent nogal klinkt als "ice beer", een bepaald soort bier.
Vertaal niet het een met het ander
Als je het over heen en weer lopen hebt, dan is *polar bears* of *polar bearing* geen goede vertaling. Machinevertalingen willen nog weleens iets als het volgende voortbrengen:

Oh oh oh oh oh oh oh.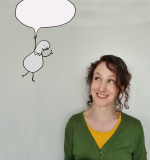 Heddwen Newton is an English teacher and a translator from Dutch into English. She has two email newsletters:
English and the Dutch is for Dutch speakers looking to improve their English, but also for near-native speakers who write, translate into, or teach English. Also interesting for people who like to compare Dutch-speaking culture to everybody else in the world.
English in Progress keeps English speakers up to date on the latest developments in the English language. Subscribers are mostly academics, English teachers, translators and writers.
Meer lezen? GA NAAR EEN WILLEKEURIG ARTIKEL
Disclaimer: deze site is geen woordenboek. Mijn vertalingen zijn de meningen van één mens, en mijn voorbeelden zijn zelfverzonnen. Meer weten? Kijk dan bij de veelgestelde vragen.
Bron foto: Dick Hoskins, Pexels