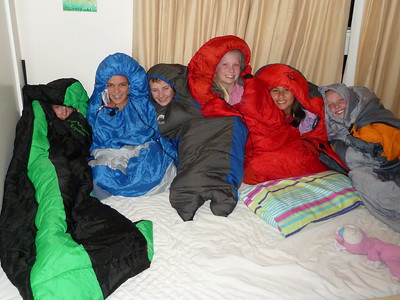 Wat betekent het?
Als je bij iemand logeert dan breng je één of meerdere nachten bij diegene door. Over het algemeen is er geen geld mee gemoeid, je logeert bij vrienden of bij familie omdat je ze wilt zien. Kinderen logeren vaak bij elkaar als avontuur.
Wat is het probleem?
"Logeren" kan in het Nederlands in allerlei situaties gebruikt worden, maar in het Engels hangt de manier van zeggen sterk van de context af.
Voorbeeldvertalingen van "logeren"
Zoals ik hierboven al benoem, logeren is meestal niet tegen betaling. Toch heb ik die betekenis hieronder ook meegenomen, voor de volledigheid.
logeren (een kind logeert bij een ander kind)
to have a sleepover
logeren (bij je partner)
to stay the night
to spend the night
to stay over
logeren (in een hotel oid)
to stay at hotel X
to spend the night
logeren (als volwassene bij vrienden)
to stay at X's place
to stay over at X's place
to couch-surf at X's place
logeren (als volwassene bij vrienden als noodoplossing)
to couch-surf at X's place
to crash at X's place (informeel!)
logeren (voor langere tijd in ruil voor geld)
to board (ouderwets)
to lodge (ouderwets)
to rent a room
Help je mee dit artikel te verbeteren?
Ik ben ook maar een mens, en soms heb ik iets mis. Weet jij een vertaling die ik nog niet had verzonnen, of heb je iets anders over dit artikel aan te merken? Ik hoor het heel graag! Laat het me hieronder weten, of stuur een mail naar info (a) hoezegjeinhetEngels.nl. Ik pas zo nodig mijn artikel aan, zodat bezoekers aan mijn site altijd de best mogelijke informatie krijgen!
Dit artikel is op 31-01-2022 bijgewerkt omdat ik ineens zag dat ik het doodnormale "to stay over" was vergeten. Suf van me!
Heddwen Newton is docent en vertaler Engels.
Disclaimer: deze site is geen woordenboek. Mijn vertalingen zijn de meningen van één mens, en mijn voorbeelden zijn zelfverzonnen. Meer weten? Kijk dan bij de veelgestelde vragen.