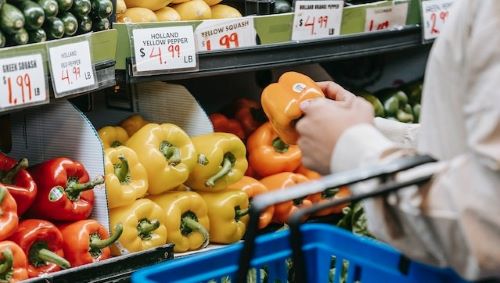 Zeg je "paprika" in het Engels, dan denken mensen aan het poeder, niet aan de groente. De Engelse vertaling van "paprika" is "pepper". In de UK gewoon "pepper", "bell pepper" voor Amerikanen als je het over de vorm zoals hierboven in de foto hebt.
Heeft de paprika een lange dunne vorm, dan heten ze in de UK en Amerika "pointed pepper". Ook wel "sweet pointed pepper". Dat is omdat ze zo op chilipepers lijken, dus dat "sweet" hebben ze eraan vastgeplakt om duidelijk te maken dat de paprika niet pittig is.
Zowel in Amerika als de UK zie je ook wel "sweet pepper", de vorm is dan minder belangrijk dan de smaak, ze drukken er mee uit dat de paprika niet pittig is.
In Australië, Nieuw Zeeland en India zegt men "capsicum" (uitspraak: kap-suh-kum). Echt waar. Die denken bij het woord "pepper" alleen aan peperkorrels of hete pepertjes.
Hoe drukken Engelstaligen het verschil uit tussen een paprika, een heet pepertje, en peper?
Door er altijd iets voor te zetten. Een heet pepertje is een "chilli pepper" of "jalapeno pepper".
Staat er alleen "pepper" dan weet je in de UK niet of je het over peper(korrels) of een paprika hebt. In Amerika is "pepper" dat zwarte spul dat je op je eten strooit, "bell pepper", "pointed pepper" of "sweet pepper" is een paprika.
False friend
Zeg je tegen een Engelstalige "paprika" dan gaat het voor hen dus altijd over paprikapoeder. Vergelijk het met ons woord "kaneel"; wij zeggen ook geen "kaneelpoeder", we zeggen gewoon "kaneel". Zo zeggen Engelstaligen dus ook "paprika". "Paprika powder" kán wel, maar klinkt raar.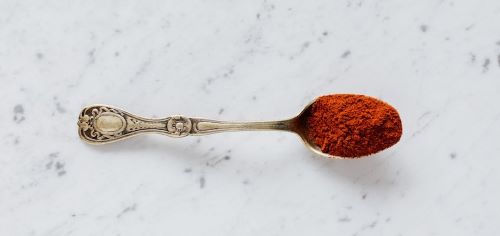 False Friend Friday
Elke vrijdag is het op deze site "False Friend Friday". Zelfs als je erg goed Engels spreekt, zijn valse vrienden goed om in de gaten te houden, want als je zo'n woord fout vertaalt, heb je het vaak zelf niet in de gaten terwijl je toehoorder zich achter de oren krabt. Vandaar dat ik er zoveel stukjes over schrijf!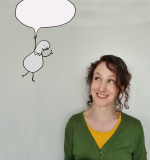 Heddwen Newton is an English teacher and a translator from Dutch into English. She thinks about languages way too much, for example about how strange it is that these little blurb things are written in the third person.

Heddwen has two passports, two children, two smartphones, two arms, two legs, and two email newsletters.

Reader feedback for the newsletter English and the Dutch, which examines all the ways Dutch speakers interact with the English language.
"It's funny, it's informative, I truly love it! Keep it up :)"
"It is amusing and funny but also educational. Bonus: it's about real life situations."
"Weer wat leuke dingen geleerd en erg gelachen om het filmpje!"
Reader feedback about the other newsletter, English in Progress, which is about how the English language is evolving and how it is spoken around the world:
"Wonderful work! I thoroughly enjoy these newsletters, and use some of the info while teaching English to my students."
"Love the variety, and the friendly informal tone!"
Also, academic Lynne Murphy, author of The Prodigal Tongue, about the differences between American and British English, recommended my newsletter in her newsletter. I was chuffed (BrE) and stoked (AmE)!
Meer lezen? GA NAAR EEN WILLEKEURIG ARTIKEL
Disclaimer: deze site is geen woordenboek. Mijn vertalingen zijn de meningen van één mens, en mijn voorbeelden zijn zelfverzonnen. Meer weten? Kijk dan bij de veelgestelde vragen.
Bron foto: supermarkt: Michael Burrows, Pexels, poeder op lepel: Karolina Grabowska, Pexels