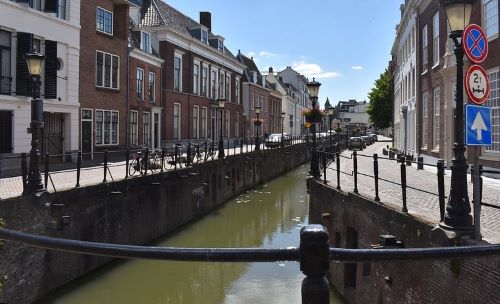 Ik zou graag 'gracht' beter naar het Engels willen vertalen dan 'canal'. Dit om een onderscheid te maken met een 'kanaal' (ook door de mens gegraven, maar doorgaans buiten een stedelijk gebied – en waar je vaak in kan zwemmen).
Deze vraag kreeg ik binnen op mijn contactpagina. Inderdaad een lastig vraagstuk!
Een vlijtige Wikipediaschrijver blijkt de vraag al beantwoord te hebben: er is geen Engelse vertaling die de betekenis beter vat dan het onpreciese "canal".
Toch heb je opties. Je kunt namelijk gewoon spreken van "gracht". Net als "stroopwafel" en "Sinterklaas" is dit een typisch Nederlands fenomeen waardoor een buitenlander het niet vreemd zal vinden als je het Nederlandse woord gebruikt terwijl je Engels spreekt. Ze kunnen het natuurlijk zelf niet uitspreken, en zullen er iets van "grackt" met een Engelse "g" van maken, maar dat deert in dit geval niet zoveel; de Engelse uitspraak lijkt genoeg op de Nederlandse om niet tot verwarring te leiden.
Een andere optie die ik voor je heb verzonnen is "inner-city waterway". Geen officiële vertaling, maar een verzinsel van mij, dus.
Heb je een moeilijk te vertalen woord?
Is er een woord of uitdrukking waarvan je altijd denkt "hoe zeg ik dat nou in het Engels?" Laat het me dan weten! Dat kan gewoon hieronder in de comments of op mijn contactpagina.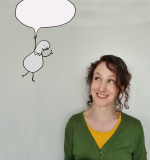 Heddwen Newton heeft intussen al 555 woorden en uitdrukkingen behandeld op hoezegjeinhetEngels.nl. Voor 2 Euro kun je haar daarvoor bedanken. Heddwen is docent en vertaler Engels.
Disclaimer: deze site is geen woordenboek. Mijn vertalingen zijn de meningen van één mens, en mijn voorbeelden zijn zelfverzonnen. Meer weten? Kijk dan bij de veelgestelde vragen.
Bron foto: flickr.com/photos/97202111@N03 (cropped), CC BY 2.0