Samen met broertje "eventueel" is dit de naarste Engelse false friend: actueel. Vervelend omdat hij zo op "actual" lijkt, wat dus geen goede vertaling is, vervelend omdat een verkeerd gebruik vaak niet opvalt, en vervelend omdat niet alleen Nederlanders hem fout gebruiken, maar ook heel veel mensen met een andere taalachtergrond.
Eerst de vertaling: "actueel" kent geen directe Engelse tegenhanger. Afhankelijk van de context wordt het "up-to-date", "current", "topical", of nog iets anders.
Sandra, heb jij de actuele cijfers voor me?
Sandra, do you have the latest figures for me?

(…) current data for me?

(..) updated statistics for me?
In ons magazine bespreken we actuele onderwerpen.
Our magazine features topical subjects.

(…) relevant subjects.

(…) newsworthy subjects.

(…) subjects from the here and now.
Dit vraagstuk is heel actueel.
This is an urgent issue.

This issue is very relevant right now.

This issue is a hot topic.

This issue is very prevalent in the current debate.
Controleer of je gebruiksaanwijzing nog actueel is.
Check if your manual is still up to date.

Check if you have the most recent manual.
Actuele gebeurtenissen
Current events
Hoe zit het met "actual"?

Het Engelste woord "actual" betekent "waar" of "echt".
Wat deze false friend zo lastig maakt, is dat jij en je toehoorder meestal niet door zullen hebben dat je het woord verkeerd gebruikt. Als jij zegt "I need the actual data" dan denk jij dat je zegt dat je de actuele gegevens nodig hebt, maar je Engelstalige toehoorder denkt dat je om de échte gegevens vraagt. In de praktijk komt dat op hetzelfde neer, waardoor de fout niet wordt ontdekt.
Verder wordt deze fout ook gemaakt door Duitsers (aktuell), Spanjaarden (actual), Fransen (actuel), Tsjechen (aktuální), Portugezen (atual), Italianen( attuale) én Polen (aktualny)! Daardoor wordt het een soort Euro-Engels waarbij niemand meer zo goed weet wat er bedoeld wordt, de native Engels betekenis "echt" of de niet-native betekenis "actueel". Net als bij "eventueel" raad ik daarom aan het Engelse woord "actual" te vermijden. Zeg "real", "true", "real-life", "tangible" (=tastbaar).
Hoe zit het met "actually"?
"Actually" betekent "eigenlijk" en wordt eigenlijk (ha!) vaker door Euro-Engels-sprekers verward met "actueel" dan "actual". Ik weet niet hoe vaak ik emails heb gekregen van collega-vertalers met een hoog niveau Engels die in hun verder perfecte email iets schreven van *I am actually very busy so I cannot take on more work*. Duitsers en Fransen meer nog dan Nederlanders, heb ik het gevoel.
Ook hier weer: de fout valt vaak niet op. Een native Engelstalige zal het opvatten als "ik heb het eigenlijk heel druk".
"Actually" kun je vervangen door "in fact", "as a matter of fact" of "in truth". Of je laat hem weg, want vaak is het een stopwoordje dat eigenlijk (ha!) niet nodig is.
Help je mee dit artikel te verbeteren?
Ik ben ook maar een mens, en soms heb ik iets mis. Weet jij een vertaling die ik nog niet had verzonnen, of heb je iets anders over dit artikel aan te merken? Ik hoor het heel graag! Laat het me hieronder weten, of stuur een mail naar info (a) hoezegjeinhetEngels.nl. Ik pas zo nodig mijn artikel aan, zodat bezoekers aan mijn site altijd de best mogelijke informatie krijgen!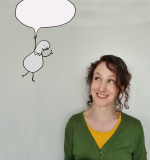 Heddwen Newton is an English teacher and a translator from Dutch into English. She has two email newsletters:
English and the Dutch is for Dutch speakers looking to improve their English, but also for near-native speakers who write, translate into, or teach English. Also interesting for people who like to compare Dutch-speaking culture to everybody else in the world.
English in Progress keeps English speakers up to date on the latest developments in the English language. Subscribers are mostly academics, English teachers, translators and writers.
Meer lezen? GA NAAR EEN WILLEKEURIG ARTIKEL
Disclaimer: deze site is geen woordenboek. Mijn vertalingen zijn de meningen van één mens, en mijn voorbeelden zijn zelfverzonnen. Meer weten? Kijk dan bij de veelgestelde vragen.
Bronnen foto's: breaking news: flickr.com/photos/s2ublack (cropped), CC BY 2.0, actual story: eigen werk