Wat is een "klimbos"?
Een klimbos is een park waar je tegen betaling een parcours kunt afleggen tussen de boomtoppen. Je bent altijd veilig want je bent gezekerd met een touw. Er zijn meestal ook wel stukken waar je kunt tokkelen (die vind ik altijd het leukst 😉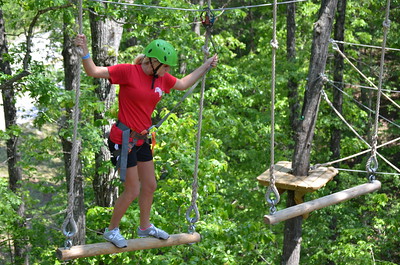 Hoe vertaal je "klimbos" het beste naar het Engels?
In de UK en Amerika noemen de meeste organisaties die deze vrijetijdsactiviteit aanbieden zichzelf "treetop adventure park".
Wil je wat meer duidelijkheid dan kun je iets zeggen als "treetop adventure zip line and ropes course".
Welke vertalingen vind ik niet zo goed?
Volgens Wikipedia is de vertaling van "klimbos" "adventure park", maar een "adventure park" hoeft niet per se in een bos tussen de bomen te zijn, het kan bijvoorbeeld ook binnen zijn, in een hal. Een "outdoor ropes course" hoeft weer niet per se tussen de bomen te zijn.
Voor mij als vertaler is de vertaling van "klimbos" interessant, want wat je online duidelijk kunt zien is dat klimbossen een paar jaar geleden vooral in niet-Engelstalige landen ontstonden (vooral Frankrijk en Duitsland) en dat hun vertalers zelf Engelse vertalingen moesten verzinnen omdat er nog geen gevestigde term voor bestond in het Engels. Als je naar de websites surft van klimbossen zie je dat ze in het Engels vanalles en nogwat genoemd worden.
Bijvoorbeeld: "High rope park", "forest climbing park", "climbing park", "forest rope park", "natural high rope course", "high rope course", "forest adventure park". Al deze termen zijn okee, maar mijn fovoriet blijft "treetop adventure park".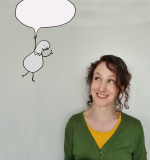 Heddwen Newton is an English teacher and a translator from Dutch into English. She thinks about languages way too much, for example about how strange it is that these little blurb things are written in the third person.

Heddwen has two passports, two children, two smartphones, two arms, two legs, and two email newsletters.

Reader feedback for the newsletter English and the Dutch, which examines all the ways Dutch speakers interact with the English language.
"It's funny, it's informative, I truly love it! Keep it up :)"
"It is amusing and funny but also educational. Bonus: it's about real life situations."
"Weer wat leuke dingen geleerd en erg gelachen om het filmpje!"
Reader feedback about the other newsletter, English in Progress, which is about how the English language is evolving and how it is spoken around the world:
"Wonderful work! I thoroughly enjoy these newsletters, and use some of the info while teaching English to my students."
"Love the variety, and the friendly informal tone!"
Also, academic Lynne Murphy, author of The Prodigal Tongue, about the differences between American and British English, recommended my newsletter in her newsletter. I was chuffed (BrE) and stoked (AmE)!
Meer lezen? GA NAAR EEN WILLEKEURIG ARTIKEL
Disclaimer: deze site is geen woordenboek. Mijn vertalingen zijn de meningen van één mens, en mijn voorbeelden zijn zelfverzonnen. Meer weten? Kijk dan bij de veelgestelde vragen.