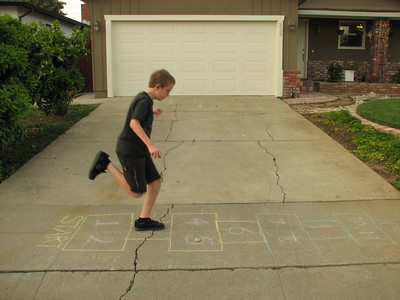 Wat betekent het?
"Hinkelen" is voortbewegen op één been. In het Nederlands refereert het woord meestal naar een kinderspel, met of zonder patroon op de grond, maar je kunt het ook gebruiken als een volwassenen noodgedwongen moet hinkelen omdat hij bv zijn enkel heeft gezwikt.
Wat is het probleem?
In het Nederlands is er een duidelijk verschil tussen "hinkelen", "springen", "huppelen" en "springtouwen". Je kunt het één niet met het ander verwarren. In het Engels is dat verschil niet zo duidelijk.
Hoe vertaal je "hinkelen" het beste naar het Engels?
Hierbij alle mogelijke vertalingen met de mitsen en maren erachter:
hop – dit kan hinkelen betekenen maar ook springen met twee benen. In het Engels noem je het springen van een konijntje bijvoorbeeld ook "to hop". "The bunny hopped away." Om het te verduidelijken is het prima om te zeggen "hop on one leg". "Okay class, now everybody hop on one leg!"
to play hopscotch – dit is het hinkelen als kinderspel, meestal met een getekend patroon op de bodem. "Let's go play hopscotch outside!"
to hopscotch – voor mijn Britse oren klinkt dit raar, maar ik hoor het Amerikanen regelmatig zeggen. Ook hier weer: dit refereert naar het kinderspel. "They were hopscotching in the playground"
to limp – mank lopen. Dit is de vertaling die je gebruikt als iemand hinkelt vanwege een zeer been. "hop" of "hopscotch" kun je in dit geval niet gebruiken.
*to skip* – volgens sommige woordenboeken is dit ook een vertaling van hinkelen, maar daar ben ik het niet mee eens. To skip betekent huppelen (dus van het ene been naar het andere), springtouwen, of een ander soort vrolijk, snel springen, maar niet hinkelen.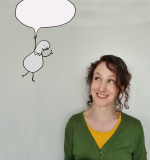 Heddwen Newton is an English teacher and a translator from Dutch into English. She has two email newsletters:
English and the Dutch is for Dutch speakers looking to improve their English, but also for near-native speakers who write, translate into, or teach English. Also interesting for people who like to compare Dutch-speaking culture to everybody else in the world.
English in Progress keeps English speakers up to date on the latest developments in the English language. Subscribers are mostly academics, English teachers, translators and writers.
Meer lezen? GA NAAR EEN WILLEKEURIG ARTIKEL
Disclaimer: deze site is geen woordenboek. Mijn vertalingen zijn de meningen van één mens, en mijn voorbeelden zijn zelfverzonnen. Meer weten? Kijk dan bij de veelgestelde vragen.