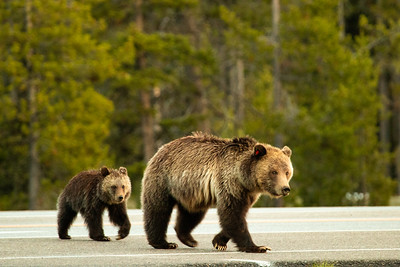 Ik kijk er elke keer weer van op als het gebeurt, omdat het Engels zo'n rijke taal is, maar dit is er weer eentje waar een leuke Nederlandse uitdrukking het beste vertaald kan worden met een saaie Engelse omschrijving. In dit geval zou ik kiezen voor iets als "to foresee a number of problems".
In deze tabel geef ik een paar voorbeeldvertalingen:
Ik zie eerlijk gezegd nogal wat beren op de weg bij dit project.
Honestly I'm seeing quite a few potential problems for this project.

Honestly I foresee a number of problems when it comes to this project.

Honestly when it comes to this project I think we might encounter a few obstacles along the way.

Ik zie drie beren op de weg, en ik zal ze één voor één bespreken.
I see three potential problems, and I'm going to discuss them one by one.

Ik zie vaak beren op de weg.
I'm generally very aware of everything that could go wrong.

I'm generally very aware of potential problems.

I tend to foresee a lot of problems.

I'm a worrywart. (=Ik maak me vaak zorgen over dingen)

Onderstaande vertalingen zijn heftiger dan "beren op de weg", maar soms wel de juiste keuze:

I tend to imagine every conceivable catastrophe.

I see danger everywhere.

I tend to catastrophise. (=Ik verzin vaak vreselijke dingen die er zouden kunnen gebeuren)
Wat betekent "beren op de weg zien"?
Als je beren op de weg ziet, dan voorzie je problemen bij het plan dat je hebt (of het plan dat wordt besproken), je hebt bezwaren, je denkt dat het zo makkelijk niet zal gaan. Blijkbaar waren er vroeger ook leeuwen en wolven op de weg, maar ik kende alleen die beren.
De uitdrukking wordt ook vaak in negatieve vorm gebruikt "ik zie geen beren op de weg", dan zeg je dat je denkt dat alles probleemloos zal verlopen.
Deze vertalingen liever niet
Jongens wat zie ik online veel slechte vertalingen voor deze uitdrukking. Ik heb het idee dat dit weer een gevalletje is van native vertalers die Nederlands als tweede taal hebben en de uitdrukking "beren op de weg" simpelweg niet kennen. Dan gaan ze gokken wat het betekent en dan gokken ze verkeerd…
"An elephant in the room", bijvoorbeeld, is een moeilijk onderwerp dat in de lucht hangt omdat mensen het er niet over willen hebben, en is dus iets heel anders dan beren op de weg.
"Roadblocks" vind ik geen goede vertaling en "to see evil" is veel te zwaar.
Een letterlijke vertaling als *bears on the road* is geen bestaande uitdrukking en zal ook niet begrepen worden.
Een vertaling die redelijk oké is en ook nog eens over een weg gaat is "bumps in the road" (=hobbels in de weg). Wat jammer is aan deze vertaling is dat die hobbels over het algemeen wat overkomelijker zijn dan die beren. Als er "bumps in the road" zijn dan kom je er wel, maar dan niet zonder horten of stoten. Als er "beren op de weg" zijn dan zou het zomaar kunnen dat je je doel helemaal niet bereikt.
Het tweede probleem is dat in het Engels meestal niet praat over "bumps in the road" in de toekomst, maar terugkijkt op de "bumps in the road" die je in het verleden hebt moeten overkomen.
"There were a few bumps in the road, but I got my degree in the end."
Bedankt aan de vragensteller!
Dit artikel is geschreven n.a.v. een vraag op mijn mijn contactpagina van Hans. Bedankt voor je vraag, Hans! Is er een woord of uitdrukking waarvan je altijd denkt "hoe zeg ik dat nou in het Engels?" Laat het me dan weten!
Dit artikel is op 12-06-2022 aangepast, ik heb de volgorde veranderd zodat bezoekers sneller het antwoord vinden dat ze zoeken.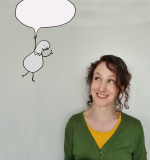 Heddwen Newton is an English teacher and a translator from Dutch into English. She has two email newsletters:
English and the Dutch is for Dutch speakers looking to improve their English, but also for near-native speakers who write, translate into, or teach English. Also interesting for people who like to compare Dutch-speaking culture to everybody else in the world.
English in Progress keeps English speakers up to date on the latest developments in the English language. Subscribers are mostly academics, English teachers, translators and writers.
Meer lezen? GA NAAR EEN WILLEKEURIG ARTIKEL
Disclaimer: deze site is geen woordenboek. Mijn vertalingen zijn de meningen van één mens, en mijn voorbeelden zijn zelfverzonnen. Meer weten? Kijk dan bij de veelgestelde vragen.
Bron foto: flickr.com/photos/grandtetonnps