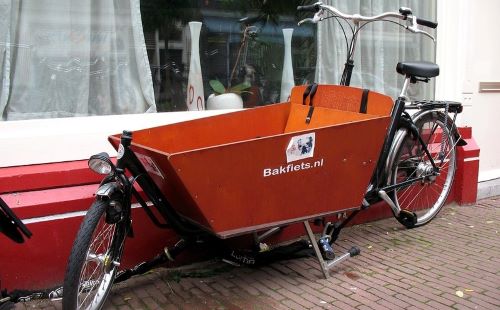 Nederlandser dan windmolens, tulpen en kaas, denk ik soms: de bakfiets. In het buitenland bestaan ze ook, dus is er ook een Engels woord voor. Maar dat woord is aan het veranderen… Ik leg het hieronder uit.
Officieel is de vertaling "cargo bike"(= vrachtfiets). "Box bike" (een vertaling van ons "bakfiets") zie je ook nog wel. Wikipedia geeft ook nog "carrier cycle" en "freight bicycle/tricycle", maar die zijn naar mijn mening intussen wat ouderwets.
Wil je een Engels woord, dan raad ik "cargo bike" of "Dutch cargo bike" aan.
Maar, maar, maar, maar! Het woord "bakfiets" is op het moment hipperdepip om in het Engels te gebruiken. Gewoon op z'n Nederlands, dus. Net als "stroopwafel" is het een woord dat er grappig uitziet, maar verder wel gewoon goed voor Engelstaligen uitspreekbaar is.
De reden die door Engelstaligen wordt aangevoerd om "bakfiets" te zeggen in plaats van "cargo bike" is dat een "cargo bike" ook andere vormen aan kan nemen (Wikipedia heeft een mooie collectie plaatjes), en dat je bij "cargo bike" aan het transporteren van goederen denkt, terwijl het bij een bakfiets vaker om kinderen gaat. Persoonlijk denk ik dat ze het vooral lekker hip vinden om "bakfiets" te zeggen, maar ik zou zeggen: prima! Jarenlang was hét Nederlandse woord in het Engels "apartheid". Dan ben ik met "bakfiets" een stuk blijer.
Onder de Engelstalige liefhebbers wordt de bakfiets intussen ook liefdevol "bak" genoemd.
En hier een voorbeeld van één van de vele filmpjes waar de bakfiets bejubeld wordt.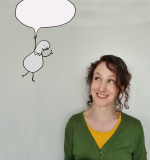 Heddwen Newton is an English teacher and a translator from Dutch into English. She thinks about languages way too much, for example about how strange it is that these little blurb things are written in the third person.

Heddwen has two passports, two children, two smartphones, two arms, two legs, and two email newsletters.

Reader feedback for the newsletter English and the Dutch, which examines all the ways Dutch speakers interact with the English language.
"It's funny, it's informative, I truly love it! Keep it up :)"
"It is amusing and funny but also educational. Bonus: it's about real life situations."
"Weer wat leuke dingen geleerd en erg gelachen om het filmpje!"
Reader feedback about the other newsletter, English in Progress, which is about how the English language is evolving and how it is spoken around the world:
"Wonderful work! I thoroughly enjoy these newsletters, and use some of the info while teaching English to my students."
"Love the variety, and the friendly informal tone!"
Also, academic Lynne Murphy, author of The Prodigal Tongue, about the differences between American and British English, recommended my newsletter in her newsletter. I was chuffed (BrE) and stoked (AmE)!
Meer lezen? GA NAAR EEN WILLEKEURIG ARTIKEL
Disclaimer: deze site is geen woordenboek. Mijn vertalingen zijn de meningen van één mens, en mijn voorbeelden zijn zelfverzonnen. Meer weten? Kijk dan bij de veelgestelde vragen.
Bron foto: flickr.com/photos/scjody (cropped), CC BY-SA 2.0