Zo'n mooie term als het Nederlandse "waterkoud" hebben Engelstaligen niet, je zult het dus moeten doen met een omschrijving als je dit woord wilt vertalen. De meest gangbare manieren om waterkoud in het Engels te omschrijven zijn:
cold and damp (damp = vochtig)
Andere mogelijkheden zijn er legio, bijvoorbeeld
cold and clammy (clammy = op een vervelende manier vochtig, koude zweethanden zijn bijvoorbeeld "clammy hands". Als je dit zegt, voelt de lucht op dezelfde vervelende manier vochtig.)
cold and wet (let op: dan regent het!)
there's a cold drizzle (= koude miezerregen)
Overigens zeg ik als Britse gewoon "It's bloody freezing outside" 😉
Wat betekent "waterkoud"?
Het is waterkoud als de lucht vochtig en koud is. Het voelt kouder dan het is.
Sommige bronnen voegen daar aan toe dat er vaak ook wind staat, en/of dat het waarschijnlijk binnenkort gaat regenen of sneeuwen, maar daar is niet iedereen het mee eens.
Hoe is het weer buiten?
Waterkoud!
He, getsie.
Welke vertalingen vind ik niet zo goed?
Ik zou het woord "moist" hier ontwijken. Als je "moist" gebruikt in samenhang met het weer dan denk ik aan warme vochtigheid.
Bedankt aan de vragensteller!
"F" stelde de vraag en gaf ook meteen zelf de beste vertaling. Bedankt, F! Heb jij ook een woord of uitdrukking waarvan je denkt "hoe zeg ik dat nu het beste in het Engels?" Laat het me dan weten! Dat kan gewoon hieronder of via mijn contactpagina.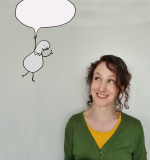 Heddwen Newton is an English teacher and a translator from Dutch into English. She has two email newsletters:
English and the Dutch is for Dutch speakers looking to improve their English, but also for near-native speakers who write, translate into, or teach English. Also interesting for people who like to compare Dutch-speaking culture to everybody else in the world.
English in Progress keeps English speakers up to date on the latest developments in the English language. Subscribers are mostly academics, English teachers, translators and writers.
Meer lezen? GA NAAR EEN WILLEKEURIG ARTIKEL
Disclaimer: deze site is geen woordenboek. Mijn vertalingen zijn de meningen van één mens, en mijn voorbeelden zijn zelfverzonnen. Meer weten? Kijk dan bij de veelgestelde vragen.
Bron foto: Ron Lach, Pexels