Dit is vooral een artikeltje voor de Belgen onder ons, die kunnen namelijk iets zeggen als:
Je kunt de auto daar op de parking zetten.
In Nederland wordt het woord "parking" niet gebruikt, hier zeggen we "parkeerplaats".
Maar Belgisch Nederlands is ook Nederlands, jawel, en dit is een probleemgevalletje dat zeker niet mag ontbreken tijdens mijn False Friend Fridays.
Hoe vertaal je "parking" het beste naar het Engels?
"Parking" is een Valse Vriend met het Engelse "parking" dat "parkeren" betekent. Een parkeerplaats heet in het Engels een "car park" (Brits Engels) of een "parking lot" (Amerikaans Engels). "Lot" betekent in dit geval een stuk land.
Een parkeergarage heet in het Engels een "multistorey car park" (Brits Engels), "parking garage" (Amerikaans Engels), of "parking building" (internationaal).
Al deze termen worden over het algemeen door alle Engelstaligen goed begrepen, door TV en films kent iedereen intussen de Amerikaanse termen wel, en de Britse termen spreken voor zich.
Maar ik zie "parking" soms wél op deze manier gebruikt worden in het Engels.
In het Engels zie je soms een zin als:
"The parking here is really terrible."
of
"Does that area have good parking?"
Maar in dit geval betekent "parking": "het parkeren" (het is een zogenaamde gerund). Vertaald staat er dus "Het parkeren hier is echt vreselijk" en "Heeft dat gebied goed parkeren?" (In correct Nederlands zeggen we dan "Kun je in dat gebied goed parkeren?") Niet hetzelfde dus. Maak je in het Engels een zin als *you can park your car on the parking* dan klinkt dat heel raar, al zullen ze het wel begrijpen, denk ik.
Help je mee dit artikel beter te maken?
Ik ben geen Belg (al kom ik wel uit het zuiden 😉 ), dus misschien heb ik het hierboven helemaal mis qua Belgisch Nederlands. (En wie weet qua Engels ook wel 🙂 ) Laat het me dan alsjeblieft weten door hieronder een reactie achter te laten, want ik geef graag goede informatie!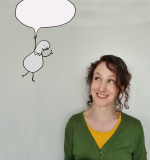 Heddwen Newton is an English teacher and a translator from Dutch into English. She has two email newsletters:
English and the Dutch is for Dutch speakers looking to improve their English, but also for near-native speakers who write, translate into, or teach English. Also interesting for people who like to compare Dutch-speaking culture to everybody else in the world.
English in Progress keeps English speakers up to date on the latest developments in the English language. Subscribers are mostly academics, English teachers, translators and writers.
Meer lezen? GA NAAR EEN WILLEKEURIG ARTIKEL
Disclaimer: deze site is geen woordenboek. Mijn vertalingen zijn de meningen van één mens, en mijn voorbeelden zijn zelfverzonnen. Meer weten? Kijk dan bij de veelgestelde vragen.