Als je docent Engels bent, zoals ik, dan heb je 99% zeker in de laatste weken één van haar filmpjes gezien: een grappige Engelse dame die in haar flatje TikTok filmpjes maakt waarin ze op hilarische wijze duidelijk maakt hoe idioot het Engels eigenlijk is.
Hierbij de grappigste filmpjes, op YouTube, niet TikTok, want die zijn makkelijker op mijn site te zetten 😉 Wil je ze allemaal zien, check dan het YouTube kanaal.
English meets French
Waarin het Engels alle coole uitdrukkingen van het Frans steelt
Over het systeem van maten en gewichten in de UK
Ontzettend stom (het systeem, niet het filmpje), en het wordt trouwens alleen nog maar stommer, thanks Brexit.
Over het woordje "put"
"So I could say 'I can hardly put up with him but my friend put me up to putting him up'?" "Precisely!"
Over het woordje "the"
Waarin Engels het beter doet dan veel andere talen maar dan…. toch weer niet.
Maar wie is ze?
Ik wilde uitzoeken wie deze mevrouw is, in het kader van ere aan wie ere toekomt, maar ik kwam niet ver. De website van haar organisatie, Twinkl.com, heeft geen pagina over "het team" of iets dergelijks, en op YouTube staat ook geen naam. (Op TikTok heb ik niet gekeken, want dan kom ik er de hele dag niet meer vanaf, en zo belangrijk is het nu ook weer niet…)
Uit haar filmpjes is het duidelijk dat ze Engelse les geeft aan Spaanstaligen, dus ik acht de kans heel hoog dat ze in Spanje woont. (Je kunt ook Engelse les geven aan anderstaligen in Engeland, maar dan heb je meer een mix van achtergrondtalen.) Ze heeft een zuid-Engels accent, net als ik. En je kunt op YouTube zien dat ze aanvankelijk instructiefilmpjes maakte voor docenten, maar er op een gegeven moment klaarblijkelijk achter is gekomen dat de grappige filmpjes over het Engels veel populairder zijn. En daar houdt het op. En verder wil ik haar ook niet teveel stalken, want als ze niet wil dat haar naam bekend wordt dan gun ik haar dat ook.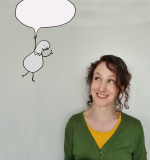 Heddwen Newton is an English teacher and a translator from Dutch into English. She thinks about languages way too much, for example about how strange it is that these little blurb things are written in the third person.

Heddwen has two passports, two children, two smartphones, two arms, two legs, and two email newsletters.

Reader feedback for the newsletter English and the Dutch, which examines all the ways Dutch speakers interact with the English language.
"It's funny, it's informative, I truly love it! Keep it up :)"
"It is amusing and funny but also educational. Bonus: it's about real life situations."
"Weer wat leuke dingen geleerd en erg gelachen om het filmpje!"
Reader feedback about the other newsletter, English in Progress, which is about how the English language is evolving and how it is spoken around the world:
"Wonderful work! I thoroughly enjoy these newsletters, and use some of the info while teaching English to my students."
"Love the variety, and the friendly informal tone!"
Also, academic Lynne Murphy, author of The Prodigal Tongue, about the differences between American and British English, recommended my newsletter in her newsletter. I was chuffed (BrE) and stoked (AmE)!
Meer lezen? GA NAAR EEN WILLEKEURIG ARTIKEL