Deze dinsdag wil ik het hebben over een bekend uitspraakprobleem in het Engels, namelijk het verschil tussen
thirteen – thirty
fourteen – fourty
fifteen-fifty
sixteen-sixty
seventeen-seventy
eighteen-eighty
nineteen-ninety
Die lijken namelijk nogal op elkaar.
Het is zo'n bekend probleem dat er ontelbare video's zijn gemaakt en stukjes zijn geschreven om buitenlanders te helpen de uitspraak te verduidelijken; het komt er op neer dat bij 13 t/m 19, er wat meer klemtoon op de "teen" ligt, en de "n" duidelijk wordt uitgesproken, terwijl bij de tientallen de klemtoon duidelijk op de eerste helft ligt. ThirTEEN en THIRty.
Voor Amerikanen komt daar nog extra bij dat ze een hardere "t" hebben bij 13 t/m 19 terwijl de "t" in bv fifty meer als een d (of zelfs een rollende r) klinkt zodat je iets krijgt als "fiddy". Britten zoals ik hebben echter in beide woorden een t-klank.
Native speakers verstaan elkaar ook niet goed
Wat ik vervelend vind aan bovengenoemde video's en stukjes is dat het probleem bij de buitenlander wordt gelegd: "jij hebt spraakverwarring want je legt de klemtoon niet goed", en dat terwijl het SUPERVAAK voorkomt dat ook twee native speakers elkaar niet goed verstaan als het op deze getallen aankomt. De uitspraak lijkt gewoon teveel op elkaar.
Bewijs: in het Engels is het normaal om telefoonnummers als enkele cijfers te zeggen. Je zegt nine-seven-three-zero-two-five-two-one, en NIET ninetyseven-thirty-twentyfive-twentyone zoals in Nederland wel vaak wordt gedaan. Volgens mij is dat vanwege bovenstaande verwarring.
Hoe kun je verwarring voorkomen?
Het is natuurlijk altijd goed om een beetje op je uitspraak te letten, en een video zoals deze bekijken kan dan ook geen kwaad. Maar belangrijker dan als een gek letten op de klemtoon (en jezelf daarmee zenuwachtig te maken) is dat je in de gaten houdt dat dit een algemeen probleem is en daarop inspeelt door de nummers op een andere manier te verduidelijken. Dat kan op drie manieren:
Manier 1: sixteen, one-six.
De eerste manier is meteen de makkelijkste en de beste: zeg de cijfers apart. Dit werkt ook als je bij de ander om verduidelijking vraagt:
"Sorry, do you mean fourteen, like one four, or forty, like four zero?"
"My client is seventy years old. As in seven-zero."
Manier 2: sixteen, the number after fifteen.
Deze werkt ook goed, al vind ik manier 1 beter.
"Sorry, do you mean eighteen, the number after seventeen, or eighty, the number after seventynine?"
Manier 3: sixteen, like sweet sixteen.
Sommige van deze getallen, maar lang niet allemaal, hebben een culturele link om ze te verduidelijken.
Dit systeem van verduidelijking raad ik niet aan, want als je iemand aan de lijn hebt die zelf ook niet zo goed Engels kan, of een native speaker met weinig culturele kennis, dan kan het zomaar zijn dat ze nooit van "sweet sixteen" gehoord hebben en de verduidelijking niet begrijpen. (En, nog erger, niet door durven te vragen omdat ze niet dom over willen komen.)
Aan de andere kant kan het ook wel grappig zijn. Dus hierbij een lijstje met verduidelijkingen die ik persoonlijk wel charmant vindt:
thirteen as in the unlucky number
thirteen as in Friday the thirteenth
fourteen as in Valentine's day
sixteen as in Sweet Sixteen
sixteen as in Sixteen Candles
seventeen as in still not allowed to drink alcohol
seventeen as in the dancing queen
eighteen as in old enough to vote
nineteen as in thinking you're an adult, but actually you're still a teenager
thirty as in "thirty days hath September"
forty as in midlife-crisis age
fifty as in half a century
fifty as in "50 cent", the rapper
sixty as in almost time for retirement
Kun jij er nog meer bedenken? Ik hoor het graag in de comments!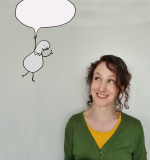 Heddwen Newton is an English teacher and a translator from Dutch into English. She has two email newsletters:
English and the Dutch is for Dutch speakers looking to improve their English, but also for near-native speakers who write, translate into, or teach English. Also interesting for people who like to compare Dutch-speaking culture to everybody else in the world.
English in Progress keeps English speakers up to date on the latest developments in the English language. Subscribers are mostly academics, English teachers, translators and writers.
Meer lezen? GA NAAR EEN WILLEKEURIG ARTIKEL