Wat betekent "de show stelen"?
Als je de show steelt, dan zijn alle ogen op jou gericht omdat je veel leuker/ beter, grappiger etc bent dan de anderen. Je kunt het letterlijk gebruiken als er een show is, bijvoorbeeld:
Op de muziekavond stal Peter de show met zijn vioolkunsten.
Maar je kunt het ook gebruiken in andere situaties:
Die blitse nieuwe fiets steelt de show in het fietsenhok.
Hoe vertaal je "steelt de show" het beste naar het Engels?
In principe hebben we in het Engels precies dezelfde uitdrukking, "to steal the show". Kijk bijvoorbeeld hier voor een definitie.
Ik heb het gevoel dat de term in het Engels vaker gebruikt wordt als er letterlijk sprake is van een show of uitvoering, en wat minder vaak dan in het Nederlands om uit te drukken dat iets opvalt dat verder niet op een podium staat. Misschien zijn er andere Engelstaligen in de zaal die dat kunnen bevestigen of ontkrachten? Ik hoor het graag in de comments!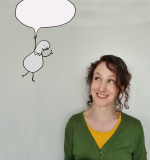 Heddwen Newton is an English teacher and a translator from Dutch into English. She has two email newsletters:
English and the Dutch is for Dutch speakers looking to improve their English, but also for near-native speakers who write, translate into, or teach English. Also interesting for people who like to compare Dutch-speaking culture to everybody else in the world.
English in Progress keeps English speakers up to date on the latest developments in the English language. Subscribers are mostly academics, English teachers, translators and writers.
Meer lezen? GA NAAR EEN WILLEKEURIG ARTIKEL
Disclaimer: deze site is geen woordenboek. Mijn vertalingen zijn de meningen van één mens, en mijn voorbeelden zijn zelfverzonnen. Meer weten? Kijk dan bij de veelgestelde vragen.