Dit is er eigenlijk eentje waar ik graag wat meer info over zou willen geven en een "vertaling", maar het is kerstvakantie dus voor nu post ik gewoon dit plaatje met weinig context. (Maar wel een beetje context, want ik ben een uitzoeker en ik wil altijd weten hoe vorken in stelen zitten.)
Reddit gebruiker Butterednutsquasch postte op het Redditforum over Harry Potter dat hij/zij per ongeluk een versie van Harry Potter had gekocht dat geschreven was voor Gen Z (dat is de generatie die opgegroeid is met Internet en nu zo tussen de 10 en de 25 jaar oud is).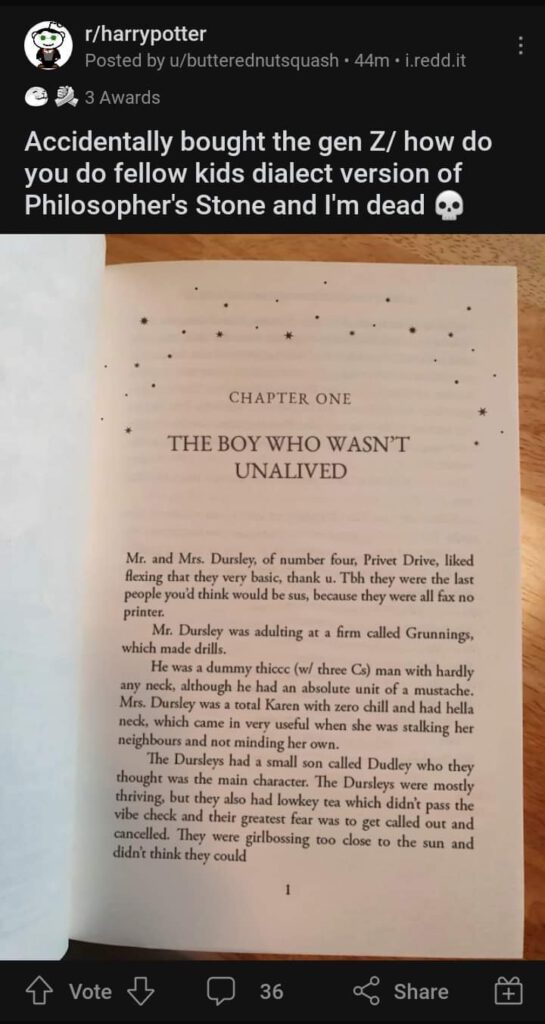 Het boek blijkt niet echt te zijn, maar een photoshopcreatie van Butterednutsquasch zelf. Een grap dus. Het Redditforum vond het zo grappig dat ze nu het hele eerste hoofdstuk hebben geschreven in dezelfde taal.
In het nieuwe jaar ga ik de tekst naast de echte tekst leggen en kijken of ik de GenZ termen een beetje uit kan leggen. Maar nu ga ik Boxing Day vieren met mijn gezin; op z'n Engels, dat betekent bijkomen van eerste kerstdag, "leftovers" eten en vooral veel TV kijken 😉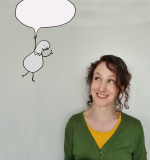 Heddwen Newton is an English teacher and a translator from Dutch into English. She has two email newsletters:
English and the Dutch is for Dutch speakers looking to improve their English, but also for near-native speakers who write, translate into, or teach English. Also interesting for people who like to compare Dutch-speaking culture to everybody else in the world.
English in Progress keeps English speakers up to date on the latest developments in the English language. Subscribers are mostly academics, English teachers, translators and writers.
Meer lezen? GA NAAR EEN WILLEKEURIG ARTIKEL