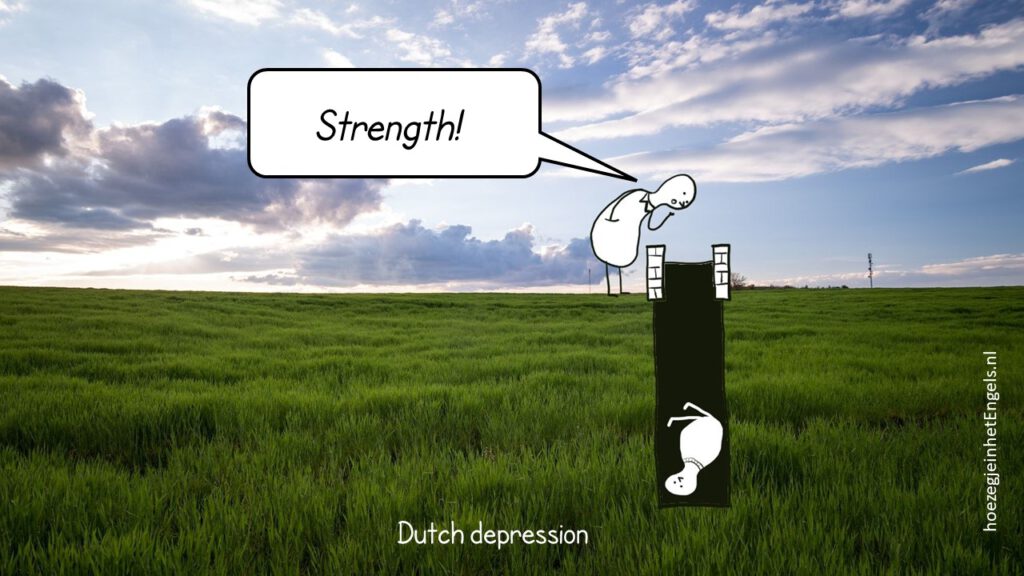 Als je in de put bent, dan ben je neerslachtig, down, depressief. Er zijn genoeg manieren om dit gevoel in het Engels uit te drukken, maar *in the well* staat er niet tussen 😉
Betekenis 1: depressief zijn
Dit is voor mij de gangbare betekenis van "in de put".
Nederlands
Engels
Ik zit in de put.
I'm feeling low / down / crummy/ blue

I'm low/ dejected/ glum/ melancholy/ miserable/ sad/ unhappy/ depressed

I'm in a funk.

I'm in low spirits (beetje literair)

I'm down in the dumps

Hij raakt steeds dieper in de put.
His depression is getting worse.

He's becoming more depressed.

He's sinking into a deeper depression.

He's falling further into darkness. (erg literair wel)

He's spiralling (= een vicieuze cirkel van bv steeds meer alcohol drinken)

He's in an emotional tailspin. (=hij stort helemaal in)
Betekenis 2: in de problemen zitten
Bij mijn onderzoek voor dit artikel ben ik deze betekenis ook tegengekomen. Voor mijn gevoel niet gangbaar, en niet wat "in de put" betekent. Toch noem ik even kort wat mogelijke vertalingen voor deze betekenis.
Nederlands
Engels
Ze zit in de put (in de problemen)
She's in trouble

She's in hot water

She's in a hole (=dat je in een moeilijke of gênante situatie zit)
Hij raakt steeds dieper in de put. (hij komt steeds dieper in de problemen te zitten)
He's getting into more and more trouble.

He's sinking into greater depths.

He's digging an ever deeper hole for himself. (= hij brengt zichzelf dieper in de problemen)
Welke vertalingen vind ik niet zo goed?
Het oude Nederlandse spreekwoordenboek dat Ensie online heeft gezet geeft als Engelse vertaling "to be in the downs". Dit was wellicht vroeger goed Engels, maar tegenwoordig zegt men dit niet meer.
"to be down in the mouth" is voor mijn gevoel intussen ouderwets, "down in the dumps" klinkt voor mij veel natuurlijker. Maar daar kunnen andere native speakers het best met me oneens zijn!
"to go down the drain" betekent dat geld of moeite verspild wordt. Geen goede vertaling.
Waar komt "in de put zitten" vandaan?
Leuk weetje: de beste theorie voor de herkomst van "in de put zitten" is dat het komt van het spel Ganzenbord. Als je op vakje 31 terechtkomt, de put, dan moet je wachten tot iemand anders je passeert voordat je verder kunt.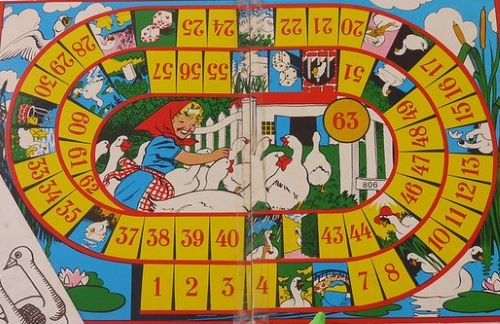 Die "strength" in het plaatje klopt niet
Dat het mannetje "strength!" roept in het plaatje hierboven, is een grapje van mij. In het Engels zou je in dit geval iets zeggen als "I wish you all the best!", "Take care!", "Chin up!" (UK), "Feel better!" (US) of "Remember, every cloud has a silver lining!"
Meer vertalingen voor "Sterkte!" lees je hier.
Heb je een moeilijk te vertalen woord?
Is er een woord of uitdrukking waarvoor je geen goede Engelse vertaling kunt vinden? Laat het me weten op mijn contactpagina, en ik probeer zo snel mogelijk te reageren.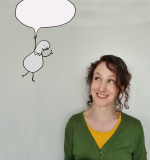 Heddwen Newton is an English teacher and a translator from Dutch into English. She has two email newsletters:
English and the Dutch is for Dutch speakers looking to improve their English, but also for near-native speakers who write, translate into, or teach English. Also interesting for people who like to compare Dutch-speaking culture to everybody else in the world.
English in Progress keeps English speakers up to date on the latest developments in the English language. Subscribers are mostly academics, English teachers, translators and writers.
Meer lezen? GA NAAR EEN WILLEKEURIG ARTIKEL
Disclaimer: deze site is geen woordenboek. Mijn vertalingen zijn de meningen van één mens, en mijn voorbeelden zijn zelfverzonnen. Meer weten? Kijk dan bij de veelgestelde vragen.
Bron foto: gras: Anton Atanasov, Pexels, tekening: eigen werk. Dit beeld mag vrij gebruikt worden (de foto in de achtergrond is copyright-vrij), wel met verwijzing naar deze site. Ganzenbord: flickr.com/photos/studioalijn