Wat betekent het?
Als iets er met de paplepel in is gegoten, dan betekent dat dat iemand een bepaald gedrag of cultuur vanaf zijn geboorte heeft meegekregen. Het gaat om babypap. In dezelfde tijd dat je ouders je pap voerden, waren ze je ook al bepaalde waarden of levenslessen mee aan het geven.
"In Brabant is de gastvrijheid er met de paplepel ingegoten." betekent dat Brabanders opgevoed zijn om zeer gastvrij te zijn.
"Respect voor de natuur, dat is er bij mij met de paplepel ingegoten!" betekent dat je ouders als sinds je kind was hebben gehamerd op het belang van respect voor de natuur.
Het wordt gebruikt om aan te geven dat het gedrag voor diegene belangrijk is en dat ze niet anders kunnen dan zich zo gedragen, want ze doen het al van jongs af aan.
Hoe vertaal je "het er met de paplepel ingieten" naar het Engels?
Lezer Ferry wees me op de beste vertaling: "to be born and raised to be/do something". Hieronder nog een paar andere opties.
Mogelijke Engelse vertalingen voor "met de paplepel ingieten":
Bij ons is gastvrijheid er met de paplepel ingegoten.
We were born and raised to be hospitable.
Hospitality just comes naturally to us.
Hospitality has been instilled in us since birth. (beetje hoogdravend voor een niet-literaire tekst, wel)
Het plezier van wandelen is mij er met de paplepel ingegoten.
I have been taught the joy of hiking from an early age.
I have been taught the joy of hiking from a tender age.
I was born and raised to be a hiker.
Intolerantie wordt er op die manier met de paplepel ingegoten.
By doing that, they are raising their children to become as intolerant as them.

Welke vertalingen vind ik niet zo goed?
Ik zie heel vaak vertalingen met "spoonfeed", maar ik ben zelf sterk van mening dat dit niet juist is. "To spoonfeed" betekent iemand op zo'n manier informatie geven dat ze zelf niet meer hoeven na te denken. Dat is niet hetzelfde.
Vertalers vinden het denk ik mooi dat het woord "lepel" er ook in voorkomt. "In het Nederlands gaat het over een lepel, dus in het Engels moet het woord 'spoon' er ook in!" Zoiets. En dan krijg je iets van "he has been spoonfed hospitality". Onzin-Engels. Niet doen.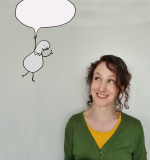 Heddwen Newton is an English teacher and a translator from Dutch into English. She thinks about languages way too much, for example about how strange it is that these little blurb things are written in the third person.

Heddwen has two passports, two children, two smartphones, two arms, two legs, and two email newsletters.

Reader feedback for the newsletter English and the Dutch, which examines all the ways Dutch speakers interact with the English language.
"It's funny, it's informative, I truly love it! Keep it up :)"
"It is amusing and funny but also educational. Bonus: it's about real life situations."
"Weer wat leuke dingen geleerd en erg gelachen om het filmpje!"
Reader feedback about the other newsletter, English in Progress, which is about how the English language is evolving and how it is spoken around the world:
"Wonderful work! I thoroughly enjoy these newsletters, and use some of the info while teaching English to my students."
"Love the variety, and the friendly informal tone!"
Also, academic Lynne Murphy, author of The Prodigal Tongue, about the differences between American and British English, recommended my newsletter in her newsletter. I was chuffed (BrE) and stoked (AmE)!
Meer lezen? GA NAAR EEN WILLEKEURIG ARTIKEL
Disclaimer: deze site is geen woordenboek. Mijn vertalingen zijn de meningen van één mens, en mijn voorbeelden zijn zelfverzonnen. Meer weten? Kijk dan bij de veelgestelde vragen.