Wat betekent het?
Ik wil het hebben over "biologisch" in de betekenis van "biologische voeding". Dat is (volgens Wikipedia) voeding wordt geproduceerd zonder het gebruik van kunstmest, chemische bestrijdingsmiddelen, genetische modificatie, groeihormonen of antibiotica. Biologische producten mogen geen kunstmatige toevoegingen bevatten. Ook wordt rekening gehouden met meer dierenwelzijn.
Wat is het probleem?
In deze betekenis is "biologisch" een valse vriend. In het Engels kennen we alleen biologisch in die andere betekenis, namelijk dat het te maken heeft met biologie, de studie naar levende organismen.
In het Engels is de zin "my apple is biological" een hele rare zin, maar de meeste Engelstaligen zullen het opvatten als "mijn appel is een levend organisme" en die zullen dan iets hebben van, "ja, duh, waar heb jij het over?".
Ook "ecological" klopt niet. Nederlanders bedenken dat woord soms vanwege het "Eko" label dat in Nederland voor biologische producten gebruikt wordt, maar het is niet juist.
Hoe vertaal je "biologisch" naar het Engels?
Deze betekenis van "biologisch" is in het Engels "organic".
mijn appel is biologisch = my apple is organic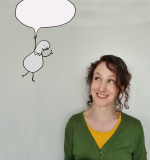 Heddwen Newton is an English teacher and a translator from Dutch into English. She has two email newsletters:
English and the Dutch is for Dutch speakers looking to improve their English, but also for near-native speakers who write, translate into, or teach English. Also interesting for people who like to compare Dutch-speaking culture to everybody else in the world.
English in Progress keeps English speakers up to date on the latest developments in the English language. Subscribers are mostly academics, English teachers, translators and writers.
Meer lezen? GA NAAR EEN WILLEKEURIG ARTIKEL
Disclaimer: deze site is geen woordenboek. Mijn vertalingen zijn de meningen van één mens, en mijn voorbeelden zijn zelfverzonnen. Meer weten? Kijk dan bij de veelgestelde vragen.