Wat betekent het?
Ik kreeg deze vraag via e-mail van een lezer uit België en ze was zo vriendelijk om deze Vlaamse uitdrukking ook even uit te leggen. Het betekent zoveel als "piekeren", je denkt steeds maar na.
Als Nederlandse kende ik de uitdrukking niet, maar wel de uitdrukking "je blijft maar malen in je hoofd", wat op hetzelfde neerkomt. Als een molen gaan de negatieve gedachtes maar rond en rond in je hoofd.
Hoe vertaal je "mijn molen staat niet stil" het beste naar het Engels?
In het Engels spreken we niet van een molen maar er wordt wel beeldspraak gebruikt over dat negatieve gedachtes steeds terugkomen: The thoughts just go round and round in my head.

In dit artikel wordt gesproken over een "worry loop". (loop = lus of cirkel) Dat is geen gevestigde uitdrukking maar iedereen zal het meteen begrijpen en het is een mooie vertaling voor die molen, denk ik.

Dit blog spreekt over een "merry-go-round in my brain" (merry-go-round = draaimolen). Wederom, geen gevestigde uitdrukking maar iedereen zal het begrijpen.
En je kunt natuurlijk ook het saaie "I can't stop worrying" gebruiken. Minder mooie beeldspraak maar wel prima Engels.
Ik heb overigens ook ooit een artikel geschreven over "piekeren", een woord dat ik erg moeilijk te vertalen vind. Die vind je hier.
Help je mee dit artikel te verbeteren?
Ik ben ook maar een mens, en soms heb ik iets mis. Weet jij een vertaling die ik nog niet had verzonnen, of heb je iets anders over dit artikel aan te merken? Ik hoor het heel graag! Laat het me hieronder weten, of stuur een mail naar info (a) hoezegjeinhetEngels.nl. Ik pas zo nodig mijn artikel aan, zodat bezoekers aan mijn site altijd de best mogelijke informatie krijgen!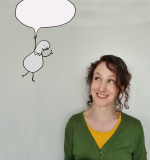 Heddwen Newton is an English teacher and a translator from Dutch into English. She has two email newsletters:
English and the Dutch is for Dutch speakers looking to improve their English, but also for near-native speakers who write, translate into, or teach English. Also interesting for people who like to compare Dutch-speaking culture to everybody else in the world.
English in Progress keeps English speakers up to date on the latest developments in the English language. Subscribers are mostly academics, English teachers, translators and writers.
Meer lezen? GA NAAR EEN WILLEKEURIG ARTIKEL