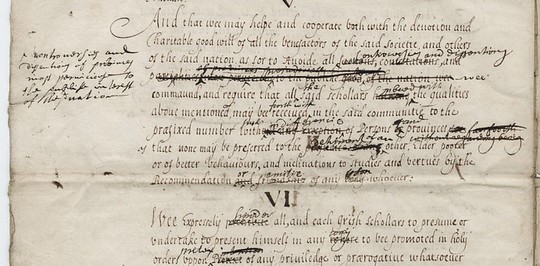 Wat betekent "een kanttekening plaatsen"?
Je zegt "ik wil hier wel een kanttekening plaatsen/maken" of "met de kanttekening dat…" als je een kritisch punt aan je eigen argument of verhaal wil toevoegen waarvan je vindt dat je toehoorder het moet weten.
Je kunt het ook gebruiken als commentaar op een verhaal van een ander. "Je zei net dat alle blikken tomatenpuree op zijn, maar ik wil even de kanttekening plaatsen dat we er volgens mij nog vijf in de kelder hebben staan." (Sorry, flauw voorbeeld, ik schrijf dit op de late avond.)
In letterlijke zin is een kanttekening een notitie in de marge van een boek, zoals op het plaatje hierboven.
Hoe vertaal je "kanttekening" het best naar het Engels?
Plaats je een kanttekening bij JE EIGEN verhaal, dan heb je in het Engels het mooie "caveat" (= voorbehoud, nuance).
"This story does come with a caveat, though…"
Tegenwoordig hoor je ook wel "to caveat" as in "I want to caveat that…"
"Proviso" (=voorbehoud, voorwaarde) is ook vaak een mooie. Een neutralere vorm is "it should be noted, that …"
Plaats je een kanttekening bij ANDERMANS verhaal, dan wil je het waarschijnlijk niet zo sterk uitdrukken. Dan kun je bijvoorbeeld zeggen "I'd like to make an observation,…", "I do have one comment about that …",
Welke vertaling vind ik niet zo goed?
De letterlijke vertaling van "kanttekening" is "a note in the margin" maar in het Engels kan dat niet overgankelijk worden gebruikt. Je kunt niet iets zeggen van "I'd like to place a note in the margin".
"On a side note" is wél een uitdrukking in het Engels, maar dit betekent iets anders, namelijk "overigens", "even terzijde", "tussen haakjes". "On a side note, I don't actually have five tins of tomatoes in the basement, I just made that up." Een "kanttekening" in het Nederlands is een kleine maar wel belangrijke opmerking, terwijl een "side note" echt onbelangrijk is en net zo goed weggelaten had kunnen worden.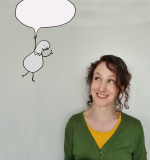 Heddwen Newton is an English teacher and a translator from Dutch into English. She thinks about languages way too much, for example about how strange it is that these little blurb things are written in the third person.

Heddwen has two passports, two children, two smartphones, two arms, two legs, and two email newsletters.

Reader feedback for the newsletter English and the Dutch, which examines all the ways Dutch speakers interact with the English language.
"It's funny, it's informative, I truly love it! Keep it up :)"
"It is amusing and funny but also educational. Bonus: it's about real life situations."
"Weer wat leuke dingen geleerd en erg gelachen om het filmpje!"
Reader feedback about the other newsletter, English in Progress, which is about how the English language is evolving and how it is spoken around the world:
"Wonderful work! I thoroughly enjoy these newsletters, and use some of the info while teaching English to my students."
"Love the variety, and the friendly informal tone!"
Also, academic Lynne Murphy, author of The Prodigal Tongue, about the differences between American and British English, recommended my newsletter in her newsletter. I was chuffed (BrE) and stoked (AmE)!
Meer lezen? GA NAAR EEN WILLEKEURIG ARTIKEL
Disclaimer: deze site is geen woordenboek. Mijn vertalingen zijn de meningen van één mens, en mijn voorbeelden zijn zelfverzonnen. Meer weten? Kijk dan bij de veelgestelde vragen.
Bron foto: flickr.com/photos/brbl (cropped), CC BY 2.0