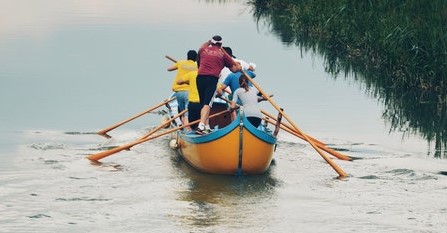 Als je in het Nederlands zegt "roeien met de riemen die je hebt" dan zeg je in het Engels vaak iets van "you have to make do with what you've got". (= Je moet het zien te redden met dat wat je hebt.) Wat minder fantasievol dan bij ons, misschien, maar wel duidelijk.
"To make do with what you have" kan ook. "Got" en "have" betekenen in dit geval gewoon hetzelfde. Andere varianten zijn "to work with what you have" of "to work with what you've got", "to use whatever means you have"(= de middelen gebruiken die je hebt), "to do what you can with what you've got", "to do the best you can given the circumstances", "make do with what you are given" en nog wel een aantal andere varianten.
Andere opties die in de buurt komen zijn:
"Make the best of it" of "make the best of a bad situation" (= er het beste van maken)
"To play the hand you are dealt with" (= je moet spelen met de kaarten die je hebt gekregen)
"To roll with the punches" (= een boxer doet dit als hij zich laat meebewegen met een slag waardoor de stoot minder hard aankomt. In overgankelijke zin betekent het tegenslagen accepteren en er flexibel mee omgaan)
En dan hebben we natuurlijk nog het mooie "when life gives you lemons, make lemonade". Die zal niet altijd passen als vertaling, maar is wel heel geliefd in Engelstalig gebied.
Genoeg om uit te kiezen, dus!
Welke vertalingen vind ik niet zo goed?
In mijn oude papieren Van Dale spreekwoordenboek uit 1989 staat "who has no horse may ride on a staff". Dit moet je zeker niet gebruiken, het is geen bestaande uitdrukking (meer), en een Engelstalige zal je niet begrijpen. Op het hele grote internet zie je dat deze uitdrukking alleen gebruikt wordt op een handvol sites die allemaal door niet-native speakers zijn geschreven (en de spreuk waarschijnlijk uit een vergelijkbaar oud woordenboek hebben gehaald).
Heb je een moeilijk te vertalen woord?
Is er een woord of uitdrukking waarvan je altijd denkt "hoe zeg ik dat nou in het Engels?" Laat het me dan weten! Dat kan gewoon hieronder in de comments of op mijn contactpagina.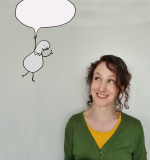 Heddwen Newton heeft intussen al 555 woorden en uitdrukkingen behandeld op hoezegjeinhetEngels.nl. Voor 2 Euro kun je haar daarvoor bedanken. Heddwen is docent en vertaler Engels.
Disclaimer: deze site is geen woordenboek. Mijn vertalingen zijn de meningen van één mens, en mijn voorbeelden zijn zelfverzonnen. Meer weten? Kijk dan bij de veelgestelde vragen.
Bron foto: Heorhii Heorhiichuk, Pexels