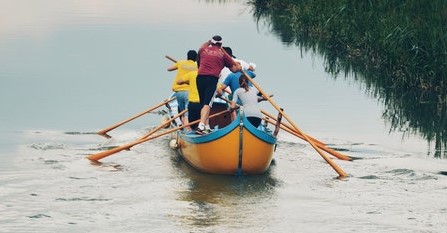 Als je in het Nederlands zegt "roeien met de riemen die je hebt" dan zeg je in het Engels vaak iets van "you have to make do with what you've got". (= Je moet het zien te redden met dat wat je hebt.) Wat minder fantasievol dan bij ons, misschien, maar wel duidelijk.
"To make do with what you have" kan ook. "Got" en "have" betekenen in dit geval gewoon hetzelfde. Andere varianten zijn "to work with what you have" of "to work with what you've got", "to use whatever means you have"(= de middelen gebruiken die je hebt), "to do what you can with what you've got", "to do the best you can given the circumstances", "make do with what you are given" en nog wel een aantal andere varianten.
Andere opties die in de buurt komen zijn:
"Make the best of it" of "make the best of a bad situation" (= er het beste van maken)
"To play the hand you are dealt with" (= je moet spelen met de kaarten die je hebt gekregen)
"To roll with the punches" (= een boxer doet dit als hij zich laat meebewegen met een slag waardoor de stoot minder hard aankomt. In overgankelijke zin betekent het tegenslagen accepteren en er flexibel mee omgaan)
En dan hebben we natuurlijk nog het mooie "when life gives you lemons, make lemonade". Die zal niet altijd passen als vertaling, maar is wel heel geliefd in Engelstalig gebied.
Genoeg om uit te kiezen, dus!
Welke vertalingen vind ik niet zo goed?
In mijn oude papieren Van Dale spreekwoordenboek uit 1989 staat "who has no horse may ride on a staff". Dit moet je zeker niet gebruiken, het is geen bestaande uitdrukking (meer), en een Engelstalige zal je niet begrijpen. Op het hele grote internet zie je dat deze uitdrukking alleen gebruikt wordt op een handvol sites die allemaal door niet-native speakers zijn geschreven (en de spreuk waarschijnlijk uit een vergelijkbaar oud woordenboek hebben gehaald).
Heb je een moeilijk te vertalen woord?
Is er een woord of uitdrukking waarvoor je geen goede Engelse vertaling kunt vinden? Laat het me weten op mijn contactpagina, en ik probeer zo snel mogelijk te reageren.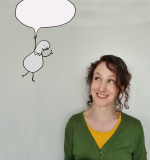 Heddwen Newton is an English teacher and a translator from Dutch into English. She thinks about languages way too much, for example about how strange it is that these little blurb things are written in the third person.

Heddwen has two passports, two children, two smartphones, two arms, two legs, and two email newsletters.

Reader feedback for the newsletter English and the Dutch, which examines all the ways Dutch speakers interact with the English language.
"It's funny, it's informative, I truly love it! Keep it up :)"
"It is amusing and funny but also educational. Bonus: it's about real life situations."
"Weer wat leuke dingen geleerd en erg gelachen om het filmpje!"
Reader feedback about the other newsletter, English in Progress, which is about how the English language is evolving and how it is spoken around the world:
"Wonderful work! I thoroughly enjoy these newsletters, and use some of the info while teaching English to my students."
"Love the variety, and the friendly informal tone!"
Also, academic Lynne Murphy, author of The Prodigal Tongue, about the differences between American and British English, recommended my newsletter in her newsletter. I was chuffed (BrE) and stoked (AmE)!
Meer lezen? GA NAAR EEN WILLEKEURIG ARTIKEL
Disclaimer: deze site is geen woordenboek. Mijn vertalingen zijn de meningen van één mens, en mijn voorbeelden zijn zelfverzonnen. Meer weten? Kijk dan bij de veelgestelde vragen.
Bron foto: Heorhii Heorhiichuk, Pexels