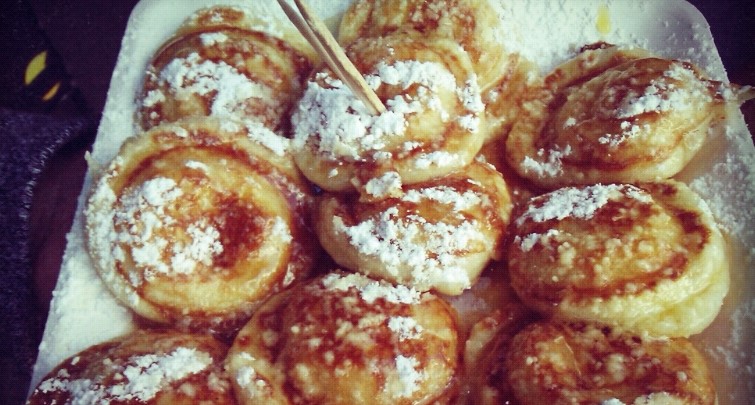 Wat zijn poffertjes?
Kleine opgepofte pannenkoekjes, gemaakt in een speciale poffertjespan, lekker op de kermis of na een middagje uitwaaien. Typisch Nederlands. Dat zijn poffertjes.
Vertalen of niet vertalen?
In mijn artikel over de "stroopwafel" raad ik aan om het Nederlandse woord aan te houden, omdat dat in het Engels heel leuk klinkt. Bij "oliebol" raad ik juist aan om er vooral een ander woord van te maken (en weg te blijven van de letterlijke vertaling).
Maar "poffertjes" is voor mij een twijfelgeval. Als een Nederlander het woord hardop uitspreekt, klinkt het geweldig leuk. Maar een Engelstalige die de term geschreven tegenkomt, zal het toch vooral een tongbreker vinden, en moeilijk om te onthouden.
Mijn advies is daarom: wel vertalen. Maar je mag het niet met me eens zijn!
Hoe vertaal je "poffertjes" naar het Engels?
De vertaling die het meest wordt gebruikt is die van de kleine pannenkoek. "Mini pancakes", of "Dutch mini pancakes" of gewoon "small pancakes". Voor Amerikanen is dit helemaal duidelijk, want hun pannenkoeken zijn ook "opgepoft". Britse pannenkoeken zijn gewoon plat, net als die in Nederland, dus ik zou bij "mini pancake" aan platte pannenkoekjes denken. Voor de smaak maakt dat natuurlijk weinig uit.
De "Dutch Pancake Bites" op het plaatje hieronder vind ik mooi gevonden, het klinkt lekker modern.
"Pancake puff" wordt blijkbaar in de VS gebruikt. Ik vind het een mooie vertaling omdat dat "puff" er in zit, maar een "cream puff" is een slagroomsoesje waardoor mensen misschien een andere smaak verwachten.
Zoals op het derde plaatje te zien is, en zoals ik hierboven bespreek, is het ook een mogelijkheid om "poffertjes" onvertaald te laten.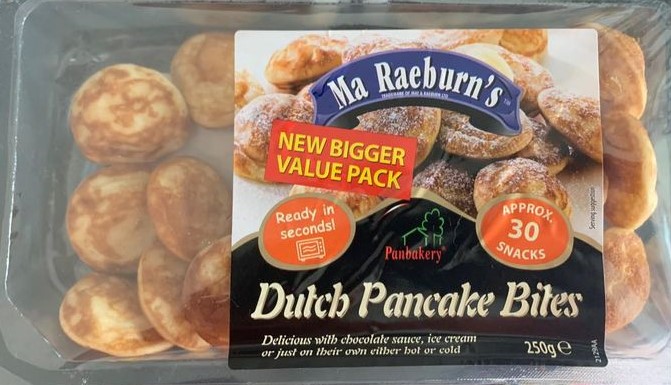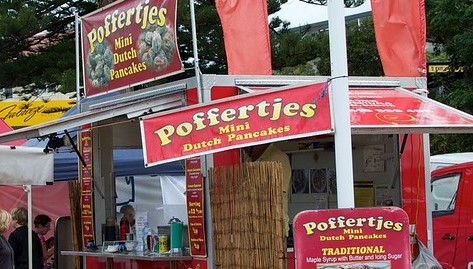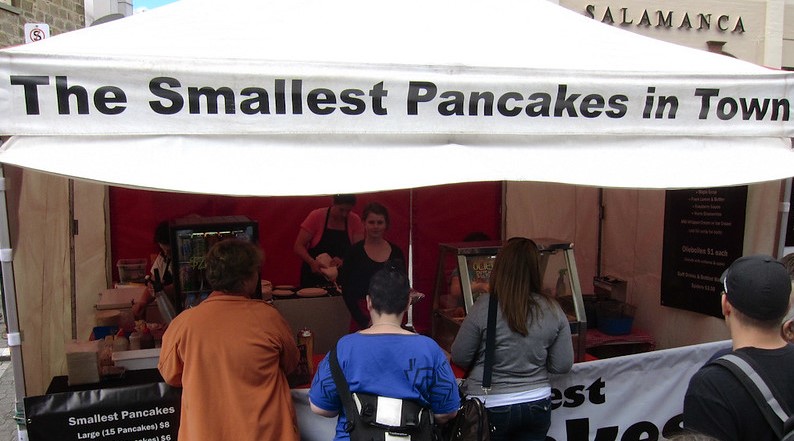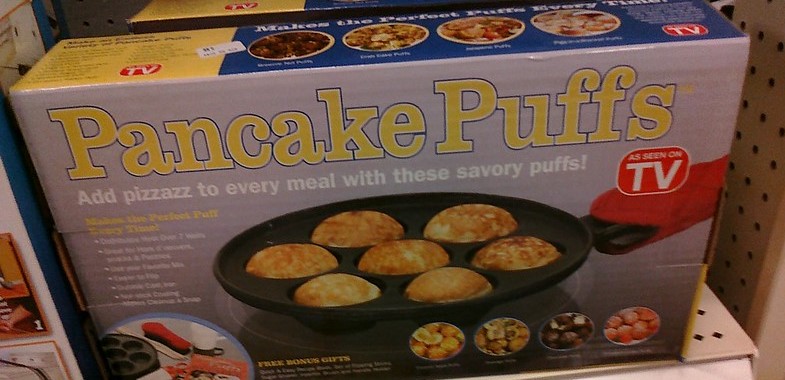 Heb je een moeilijk te vertalen woord?
Is er een woord of uitdrukking waarvoor je geen goede Engelse vertaling kunt vinden? Laat het me weten op mijn contactpagina, en ik probeer zo snel mogelijk te reageren.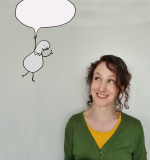 Heddwen Newton is an English teacher and a translator from Dutch into English. She has two email newsletters:
English and the Dutch is for Dutch speakers looking to improve their English, but also for near-native speakers who write, translate into, or teach English. Also interesting for people who like to compare Dutch-speaking culture to everybody else in the world.
English in Progress keeps English speakers up to date on the latest developments in the English language. Subscribers are mostly academics, English teachers, translators and writers.
Meer lezen? GA NAAR EEN WILLEKEURIG ARTIKEL
Disclaimer: deze site is geen woordenboek. Mijn vertalingen zijn de meningen van één mens, en mijn voorbeelden zijn zelfverzonnen. Meer weten? Kijk dan bij de veelgestelde vragen.
Bronnen foto's: Bovenaan: flickr.com/photos/cherylfoong / CC BY 2.0, Dutch Pancake Bites: Marjolijn Mellor, Mini Dutch Pancakes: flickr.com/photos/andruby / CC BY 2.0, Adelaide's famous Poffertjes: flickr.com/photos/mikecogh / CC BY-SA 2.0, Smallest Pancakes in Town: flickr.com/photos/haynes / CC BY-SA 2.0, Pancake Puff maker: flickr.com/photos/rexroof / CC BY 2.0, Pancake puffs packets: flickr.com/photos/theimpulsivebuy / CC BY-SA 2.0, all photos have been cropped