Ik heb het er al eens eerder over gehad, maar wij Nederlanders zijn erg direct, en worden in het buitenland daarom vaak als heel erg onbeleefd gezien, terwijl dat helemaal niet onze bedoeling is.
Dit filmpje maakt dit cultuurverschil zó ontzettend goed duidelijk dat ik het eigenlijk als verplichte kost aan iedere Nederlander zou willen laten zien. Het gaat over Ierse mensen en Duitse mensen, maar het had net zo goed een Brit en een Nederlander kunnen zijn.
Mijn eigen ervaring met een Britse moeder
Dit filmpje is voor mij extra grappig omdat ik dit met mijn Britse moeder in Nederland bijna wekelijks meemaakte. Als ik bijvoorbeeld een vriend of vriendin van school te eten had, dan gebeurde vrijwel elke keer het volgende:
Vriendin (goed opgevoed): zal ik helpen met de afwas?
Mijn moeder: oh nee hoor, dat doe ik wel
Vriendin: okee
Mijn moeder, later: Nederlanders zijn zó onbeleefd!
Elke keer weer, mensen, elke keer weer. Zelfs nadat ik het aan haar uit probeerde te leggen. Zelfs nadat ze meer dan 30 (!) jaar in Nederland gewoond had. Dan was ze in de supermarkt geweest, en dan belde ze me laaiend van woede op omdat iemand tegen haar was aangestoten, en toen had mijn moeder sorry gezegd, en toen had die persoon gezegd "oh, dat is niet erg hoor" terwijl het HUN SCHULD WAS GEWEEST. Zó onbeleefd, die Nederlanders, zó onbeleefd. Gelukkig kon ze er ook altijd wel om lachen. 😀
Sunday Funday
Deze site, hoezegjeinhetEngels.nl, bespreekt Nederlandse woorden die moeilijk naar het Engels te vertalen zijn, zoals hoeveelste en zweverig. Maar zondag is het tijd voor ontspanning en dan zet ik een iets leuks op mijn blog dat met taal of cultuur te maken heeft. Want dat is leuk! 😉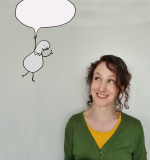 Heddwen Newton is an English teacher and a translator from Dutch into English. She has two email newsletters:
English and the Dutch is for Dutch speakers looking to improve their English, but also for near-native speakers who write, translate into, or teach English. Also interesting for people who like to compare Dutch-speaking culture to everybody else in the world.
English in Progress keeps English speakers up to date on the latest developments in the English language. Subscribers are mostly academics, English teachers, translators and writers.
Meer lezen? GA NAAR EEN WILLEKEURIG ARTIKEL