Een wat nieuwere variant van de Engelse woorden die helemaal niet Engels zijn, omdat ze zijn verzonnen door een Nederlander: funshoppen. Of nog erger: funshopping. Winkelen voor je plezier. Het gaat niet (alleen) om het product dat je nodig hebt, maar ook om de lol van het winkelen zelf.
In het Engels bestaat de term "funshopping" helemaal niet. Ze zullen het wel snappen, want "fun shopping" betekent natuurlijk gewoon "leuk winkelen", maar een zin als *I'm going funshopping today* klinkt erg raar. Een Engelstalige zal denken dat je een grammaticale fout hebt gemaakt, en dat je bedoelde "I'm going to have fun shopping today" (= ik ga het vandaag leuk hebben bij het winkelen).
Hoe vertaal je "funshoppen" naar het Engels?
De beste Engelse vertaling is denk ik "recreational shopping". Dat is echter een vakterm en klinkt veel minder leuk. "Leisure shopping" kan ook, betekent hetzelfde, en heeft hetzelfde probleem.
"Window shopping" is niet hetzelfde, maar komt vaak wel op hetzelfde neer, en is denk ik vaak de beste vertaling als je een "leuk" woord nodig hebt. "Window shopping" betekent dat je door een winkelstraat struint om producten te bekijken, maar niet per se de intentie hebt om iets te kopen. Het is een positief woord.
Niet helemaal hetzelfde, maar een aanverwante Engelse vakterm is "shopping tourism". Dat is als mensen naar een andere plek reizen speciaal om te gaan winkelen. Denk aan een weekendje Barcelona om te shoppen.
In het centrum van Amersfoort kun je lekker funshoppen.
The centre of Amersfoort is a great place for a bit of shopping.
The centre of Amersfoort has great shops and boutiques.

Ik ging laatst met mijn vriendin een beetje funshoppen.
I did some window-shopping with my friend the other day. (window-shopping = je kijkt wat er te koop is, maar koopt niets)
Me and my friend spent some time in the mall the other day. (mall = winkelcentrum)
"Fun shopping" kan natuurlijk wel maar dat betekent gewoon "vermakelijk winkelen". Het klinkt een beetje raar, ik heb er een beeld bij van mensen die al winkelend grapjes maken in de supermarkt.
False Friend Friday
Elke vrijdag is het op deze site "False Friend Friday". Zelfs als je erg goed Engels spreekt, zijn valse vrienden goed om in de gaten te houden, want als je zo'n woord fout vertaalt, heb je het vaak zelf niet in de gaten terwijl je toehoorder zich achter de oren krabt. Vandaar dat ik er zoveel stukjes over schrijf!
Dit artikel is op 16-09-22 aangepast omdat ik erachter kwam dat ik al eens een artikel had geschreven over "funshoppen", en dat toen blijkbaar vervolgens weer vergeten was! Ik heb ze nu bijelkaar gegooid.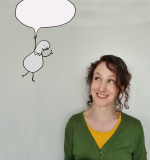 Heddwen Newton is an English teacher and a translator from Dutch into English. She thinks about languages way too much, for example about how strange it is that these little blurb things are written in the third person.

Heddwen has two passports, two children, two smartphones, two arms, two legs, and two email newsletters.

Reader feedback for the newsletter English and the Dutch, which examines all the ways Dutch speakers interact with the English language.
"It's funny, it's informative, I truly love it! Keep it up :)"
"It is amusing and funny but also educational. Bonus: it's about real life situations."
"Weer wat leuke dingen geleerd en erg gelachen om het filmpje!"
Reader feedback about the other newsletter, English in Progress, which is about how the English language is evolving and how it is spoken around the world:
"Wonderful work! I thoroughly enjoy these newsletters, and use some of the info while teaching English to my students."
"Love the variety, and the friendly informal tone!"
Also, academic Lynne Murphy, author of The Prodigal Tongue, about the differences between American and British English, recommended my newsletter in her newsletter. I was chuffed (BrE) and stoked (AmE)!
Meer lezen? GA NAAR EEN WILLEKEURIG ARTIKEL
Disclaimer: deze site is geen woordenboek. Mijn vertalingen zijn de meningen van één mens, en mijn voorbeelden zijn zelfverzonnen. Meer weten? Kijk dan bij de veelgestelde vragen.
Bron foto: Sam Lion, Pexels