Deze was drie jaar geleden populair op social media dus misschien ken je hem al, maar hij is geweldig dus hier is hij nog een keer:
Finse komiek Ismo bespreekt de finesses van het woord "ass" in Amerikaans Engels. Als Britse kende ik sommige van deze taaltips ook niet!
Een overzicht van de "taaltips" die voorbijkomen:
Tip 1: The correct answer to "What's up?" is "What's up?"
Als Britse vind ik dit verdacht veel lijken op het ouderwetse "How do you do?" (waarop het antwoord luidt "How do you do?") die tot mijn irritatie soms nog steeds in Engelse lesboeken staat ook al zegt in Engeland echt niemand dat meer. Wat is dat toch dat Engelstaligen schijnbaar behoefte hebben aan zo'n niets-betekenende vraag? Voor mij als zuid-Engelse is het "How are you?" "Fine, how are you?". (Ook nietszeggend, want het is niet de bedoeling dat je naar waarheid antwoord geeft!) Ik zou in Amerika ook moeite hebben met het idee dat je op "What's up?" geen antwoord moet geven.
Tip 2: "Can I help you?" actually means "Go away."
Deze mag je met een korreltje zout nemen, een winkelbediende meent het natuurlijk gewoon als ze "can I help you?" zeggen. Maar als je aan het wandelen bent, en je komt per ongeluk op privégrond terecht, en de bewoner komt naar buiten en zegt "Can I help you?" nou, inderdaad, dan is dat niet bijzonder vriendelijk bedoeld!
Tip 3: You can add "ass" to anything to make it sound cooler, but beware, you might change the meaning!
| | |
| --- | --- |
| Ass-woord | Betekenis |
| lazy ass (move your lazy ass) | lui |
| long ass (a long ass flight) | lang |
| a grown-ass man | een volwassen man |
| bad ass | stoer |
| dumb ass | dom |
| move your ass | ga uit de weg |
| fast, my ass | echt niet snel (in het Nederlands kun je ook zeggen: "snel? M'n reet.") |
| you are an ass | jij bent een eikel |
| that is half-assed work | dat is halfslachtig werk |
| he is a piece of ass (let op: dit wordt door de meeste Engelstaligen als ongepast en respectloos ervaren) | hij is een lekker ding |
Sunday Funday
Deze site, hoezegjeinhetEngels.nl, bespreekt Nederlandse woorden die moeilijk naar het Engels te vertalen zijn, zoals hoeveelste en zweverig. Maar zondag is het tijd voor ontspanning en dan zet ik een iets leuks op mijn blog dat met taal of cultuur te maken heeft. Want dat is leuk! 😉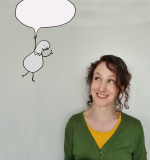 Heddwen Newton is an English teacher and a translator from Dutch into English. She thinks about languages way too much, for example about how strange it is that these little blurb things are written in the third person.

Heddwen has two passports, two children, two smartphones, two arms, two legs, and two email newsletters.

Reader feedback for the newsletter English and the Dutch, which examines all the ways Dutch speakers interact with the English language.
"It's funny, it's informative, I truly love it! Keep it up :)"
"It is amusing and funny but also educational. Bonus: it's about real life situations."
"Weer wat leuke dingen geleerd en erg gelachen om het filmpje!"
Reader feedback about the other newsletter, English in Progress, which is about how the English language is evolving and how it is spoken around the world:
"Wonderful work! I thoroughly enjoy these newsletters, and use some of the info while teaching English to my students."
"Love the variety, and the friendly informal tone!"
Also, academic Lynne Murphy, author of The Prodigal Tongue, about the differences between American and British English, recommended my newsletter in her newsletter. I was chuffed (BrE) and stoked (AmE)!
Meer lezen? GA NAAR EEN WILLEKEURIG ARTIKEL