Wat betekent "alsjeblieft niet"?
"Alsjeblieft niet" kan gewoon letterlijk bedoeld worden (ik vraag beleefd of je dat alsjeblieft niet wilt doen) maar ik wil het hebben over "alsjeblieft niet" als hele duidelijke uiting dat je iets niet wil. Het is vaak een verzuchting. Het klinkt beleefd, met dat "alsjeblieft" erin, maar eigenlijk is het dat helemaal niet. "Dat wat jij wil, dat wil ik absoluut niet!"
"Laten we gaan dansen!" "Oh, alsjeblieft niet."
"Zou het niet leuk zijn als we allemaal dezelfde kleur zouden dragen!""Oh, alstjeblieft niet, zeg."
Wat is het probleem?
"Please, no" is in het Engels een uitroep die je doet als iemand je probeert te vermoorden ofzo. Die past hier dus niet. "Please, don't" past soms, maar meestal niet.
Hoe vertaal je "alsjeblieft niet" het beste naar het Engels?
Ik denk dat "Oh God, no" het vaakst het best de lading dekt. Hier een aantal voorbeeldvertalingen:
"Laten we gaan dansen!" "Oh, alsjeblieft niet."
"Let's go dancing!" "Oh God. Let's not."
(…) "That's the last thing I want to do right now."
"Zou het niet leuk zijn als we allemaal dezelfde kleur zouden dragen!""Oh, alsjeblieft niet, zeg."
"Wouldn't it be funny if we all wore the same colour!"
"Oh, God, no."
(…) "That would be terrible."

"Zal ik de muziek harder zetten?" "Alsjeblieft niet."
"Shall I turn the music up?"
"Please don't."
(…) "God, no."
Help! Vermoord me alsjeblieft niet!
Help! Please don't kill me!
Help je mee dit artikel te verbeteren?
Ik ben ook maar een mens, en soms heb ik iets mis. Weet jij een vertaling die ik nog niet had verzonnen, of heb je iets anders over dit artikel aan te merken? Ik hoor het heel graag! Laat het me hieronder weten, of stuur een mail naar info (a) hoezegjeinhetEngels.nl. Ik pas zo nodig mijn artikel aan, zodat bezoekers aan mijn site altijd de best mogelijke informatie krijgen!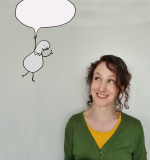 Heddwen Newton is an English teacher and a translator from Dutch into English. She has two email newsletters:
English and the Dutch is for Dutch speakers looking to improve their English, but also for near-native speakers who write, translate into, or teach English. Also interesting for people who like to compare Dutch-speaking culture to everybody else in the world.
English in Progress keeps English speakers up to date on the latest developments in the English language. Subscribers are mostly academics, English teachers, translators and writers.
Meer lezen? GA NAAR EEN WILLEKEURIG ARTIKEL
Disclaimer: deze site is geen woordenboek. Mijn vertalingen zijn de meningen van één mens, en mijn voorbeelden zijn zelfverzonnen. Meer weten? Kijk dan bij de veelgestelde vragen.