Wat betekent "eindexamen"?
Het "eindexamen" is het afsluitende examen van je opleiding. In de praktijk refereert het meestal naar het eindexamen van de middelbare school (VMBO, havo of vwo) omdat vervolgopleidingen meestal niet één afsluitend examen hebben; die hebben een examen per tijdsblok en/of per vak.
Wat is het probleem?
Geen groot probleem. In de UK refereer je naar het eindexamen met de naam van de opleiding: "GCSE exams" of "A-level exams", maar dat is natuurlijk heel specifiek voor hun systeem.
Hoe vertaal je "eindexamen" het beste naar het Engels?
In Amerika zeggen ze "final exams", afgekort "finals", en dat is internationaal goed te begrijpen. The Guardian kiest voor "school-leaving exams" en dat vind ik ook een mooie, voor iedereen goed te begrijpen term.
NB. In het Nederland kun je "eindexamen" in het enkelvoud of "eindexamens" in het meervoud zeggen. In het Engels is het beter om het meervoud te nemen, want zij zullen "final exam" echt opvatten als één toets.
Vlag en tas uithangen
Overigens, de traditie om je schooltas en de vlag uit te hangen als je geslaagd bent, is typisch Nederlands. Dat kennen ze in het buitenland niet.
Heb je een moeilijk te vertalen woord?
Is er een woord of uitdrukking waarvoor je geen goede Engelse vertaling kunt vinden? Laat het me weten op mijn contactpagina, en ik probeer zo snel mogelijk te reageren.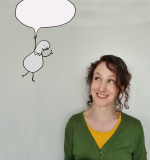 Heddwen Newton is an English teacher and a translator from Dutch into English. She has two email newsletters:
English and the Dutch is for Dutch speakers looking to improve their English, but also for near-native speakers who write, translate into, or teach English. Also interesting for people who like to compare Dutch-speaking culture to everybody else in the world.
English in Progress keeps English speakers up to date on the latest developments in the English language. Subscribers are mostly academics, English teachers, translators and writers.
Meer lezen? GA NAAR EEN WILLEKEURIG ARTIKEL
Disclaimer: deze site is geen woordenboek. Mijn vertalingen zijn de meningen van één mens, en mijn voorbeelden zijn zelfverzonnen. Meer weten? Kijk dan bij de veelgestelde vragen.