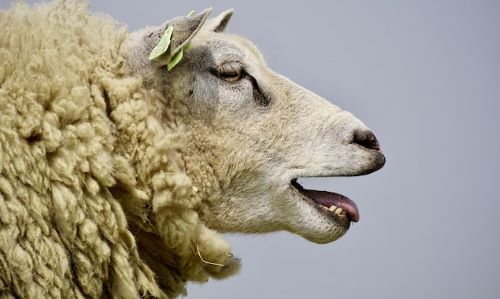 Wollig taalgebruik is vaag, indirect, onduidelijk, abstract, oneffectief. Met veel woorden weinig zeggen. In het Engels bestaat geen directe tegenhanger voor dit woord, het woord "woolly" betekent net wat anders. Je zult het dus moeten doen met een vertaling van het aspect dat je het meest bedoelt, hieronder een paar opties:
unclear (=onduidelijk)
vague (= vaag)
sweeping (=algemeen, vergelijk "sweeping statement")
imprecise/ not precise (= onnauwkeurig)
clichéd (= clichématig)
doesn't get to the point
with a lot of padding and packaging (geen bestaande uitdrukking, zou wel goed begrepen worden, denk ik)
jargonny (moeilijk te begrijpen vanwege teveel vakterminologie, let op: informeel)
Maar "woolly" dan?
Een "woolly text" is geen gangbaar Engels, je zegt eerder "woolly thinking" of "a woolly personality". Vaag en warrig, betekent dat.
Zeg je in het Engels "a woolly text" dan zal een Engelstalige dat opvatten als "warrig". Vaag omdat de schrijver mentaal niet alles op een rijtje heeft, níet omdat er b.v. teveel abstract jargon wordt gebruikt.
"Fuzzy" heeft precies hetzelfde probleem.
Welke vertalingen vind ik nog meer niet zo goed?
Engelstaligen gebruiken het woord "fluffy" niet in de context van taalgebruik. Doe je het toch, dan zullen ze het denk ik opvatten als "sentimenteel".
Ik zag ook ergens "touchy-feely". Dat betekent iets van gevoelig, zweverig, en is niet hetzelfde als "wollig".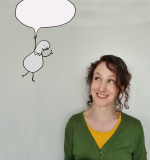 Heddwen Newton is an English teacher and a translator from Dutch into English. She has two email newsletters:
English and the Dutch is for Dutch speakers looking to improve their English, but also for near-native speakers who write, translate into, or teach English. Also interesting for people who like to compare Dutch-speaking culture to everybody else in the world.
English in Progress keeps English speakers up to date on the latest developments in the English language. Subscribers are mostly academics, English teachers, translators and writers.
Meer lezen? GA NAAR EEN WILLEKEURIG ARTIKEL
Disclaimer: deze site is geen woordenboek. Mijn vertalingen zijn de meningen van één mens, en mijn voorbeelden zijn zelfverzonnen. Meer weten? Kijk dan bij de veelgestelde vragen.
Bron foto: Pixabay