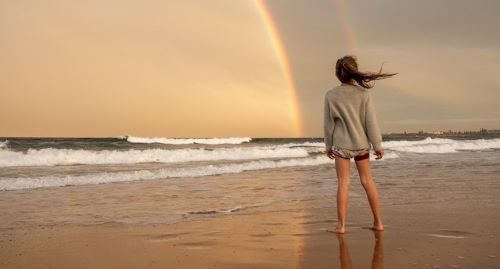 Het prachtige 'uitwaaien' staat vaak op lijstjes van Nederlandse woorden waar geen Engelse vertaling voor is, zoals deze, en dat klopt ook. Er is in het Engels, en waarschijnlijk ook in de meeste andere talen, geen woord voor. Maar goed, mijn site zou mijn site niet zijn als ik niet toch een poging doe.
Mogelijke Engelse vertalingen voor 'uitwaaien'
Er is dus geen vertaling voor, maar misschien zit je toch in een situatie waar je het concept graag aan een buitenlander wil uitleggen. Hieronder een paar suggesties.
Heb jij een andere definitie van uitwaaien, of een andere mogelijke vertaling? Laat het me weten in de comments!
Ik ga even uitwaaien op het strand.
I'm going to take a walk on the beach and let the wind blow my cares away.

I'm going to take a nice walk on a windy beach.
Het was niet het beste weer maar dat is ook wel eens lekker. Lekker uitwaaien.
It wasn't the best weather imaginable but we enjoyed it anyway. It's nice having the wind blow through your hair.

Ik ga lekker uitwaaien op vakantie.
I'm going to take nice long walks through the countryside on holiday.

Ga anders even buiten uitwaaien.
Why don't you go for a walk and clear your head.
Heb je nog een ander vertaalidee? Ik hoor het graag in de comments!
Wat betekent 'uitwaaien'?
Rondklikkend op het internet ben ik erachter gekomen dat er onder Nederlandstaligen geen hele duidelijke definitie bestaat voor "uitwaaien", iedereen heeft er zo zijn eigen idee over. Het volgende is dan ook wellicht meer hoe ik het zie:
Als je op het strand 'even lekker gaat uitwaaien' dan ga je een fijne wandeling maken in de wind. Het hoeft niet per se heel koud te zijn (kan wel), maar het is geen hele warme 's zomerse dag; het moet wel een beetje waaien, wil je goed kunnen uitwaaien. Na de wandeling voel je je weer lekker fris, en dan vooral in je hoofd. Je was even alleen aan het nadenken over strand en zee en wind, en nu kun je er weer tegenaan.
'Uitwaaien' in Engelstalige media
'Uitwaaien' kwam laatst op mijn tijdlijn voorbij in een uitbundig artikel geschreven door een Amerikaan die meteen een vergelijking trekt met het Deense 'hygge'. (Overigens zonder daarbij op te merken dat Nederlanders het concept 'hygge' ook kennen, alleen dan helaas met een woord dat voor Engelstaligen minder lekker uit te spreken is).
Maar dat heb ik al eens eerder gezien, dacht ik meteen, en inderdaad. Je hoeft alleen maar even te googlen op 'uitwaaien Dutch' en je vindt zo een hele bups aan artikelen die allemaal op hetzelfde neerkomen 🙂
In bovenstaand stuk merkt een Amerikaanse reageerder op:
My mother used to tell us to "Go outside and blow the stink off". I think it's a similar concept!
Ook een leuke vertaling 🙂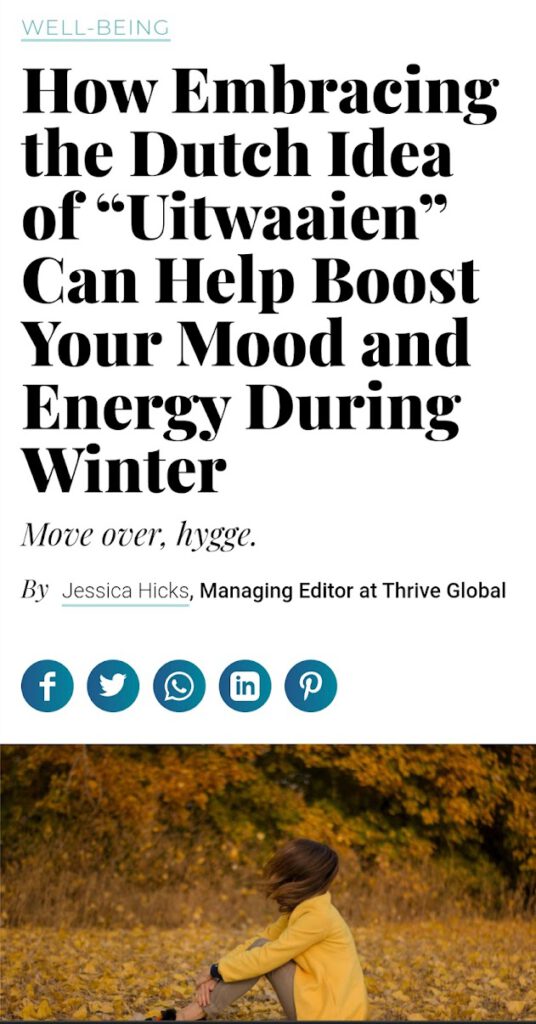 Dit artikel is op 13-01-2022 en 07-02-2023 bijgewerkt.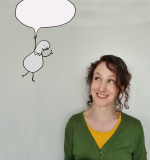 Heddwen Newton is an English teacher and a translator from Dutch into English. She thinks about languages way too much, for example about how strange it is that these little blurb things are written in the third person.

Heddwen has two passports, two children, two smartphones, two arms, two legs, and two email newsletters.

Reader feedback for the newsletter English and the Dutch, which examines all the ways Dutch speakers interact with the English language.
"It's funny, it's informative, I truly love it! Keep it up :)"
"It is amusing and funny but also educational. Bonus: it's about real life situations."
"Weer wat leuke dingen geleerd en erg gelachen om het filmpje!"
Reader feedback about the other newsletter, English in Progress, which is about how the English language is evolving and how it is spoken around the world:
"Wonderful work! I thoroughly enjoy these newsletters, and use some of the info while teaching English to my students."
"Love the variety, and the friendly informal tone!"
Also, academic Lynne Murphy, author of The Prodigal Tongue, about the differences between American and British English, recommended my newsletter in her newsletter. I was chuffed (BrE) and stoked (AmE)!
Meer lezen? GA NAAR EEN WILLEKEURIG ARTIKEL
Disclaimer: deze site is geen woordenboek. Mijn vertalingen zijn de meningen van één mens, en mijn voorbeelden zijn zelfverzonnen. Meer weten? Kijk dan bij de veelgestelde vragen.
Bron foto: Ben Mack, Pexels