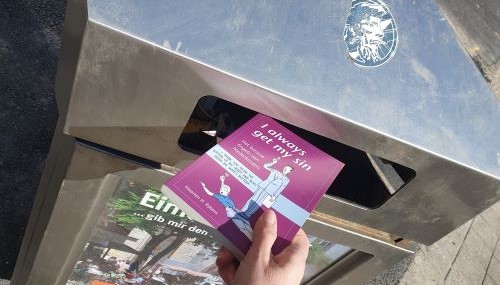 Veel mensen staan er niet bij stil, maar het leven in Nederland en Vlaanderen kan lastig zijn als je geen talenknobbel hebt. Op je werk en privé wordt er vaak automatisch van uitgegaan dat je vloeiend Engels spreekt.
Als je vroeger op school meer uitblonk in de praktische vakken of de bètavakken, en niet zo'n taalmens bent, dan heb je je nu maar te redden.
Ik vind het prachtig hoe Nederlandstaligen zonder talenknobbel toch hun best doen om zich in het Engels verstaanbaar te maken. In plaats van eisen dat de ander Nederlands spreekt, doen ze hun best om te communiceren met de bezoekers van hun kapperszaak, school of winkel. Dat gaat dan weleens mis, maar fotograferen en online zetten, daar ben ik niet zo van.
Het is om die reden dat je op deze site nooit grapjes zult vinden over Steenkolenengels, ook wel Dunglish genoemd. Ik kijk liever naar wat er mis gaat, en help mensen met hoe je het dan wél kunt zeggen.
Zo heb ik bijvoorbeeld een serietje geschreven over het Engels van Louis van Gaal. Toen ik er voor ging zitten om naar zijn Engels te kijken, kwam ik erachter dat veel van zijn Engelse uitspraken die de Nederlandse media als steenkolenengels hadden bestempeld, helemaal zo slecht nog niet waren.
(Kleine slag om de arm: Gaat het om steenkolenengels dat expres wordt gebruikt, dan vind ik het een ander verhaal. De video in dit stuk over "stroom" als false friend, bijvoorbeeld. Daar moet ik dan weer hartelijk om lachen!)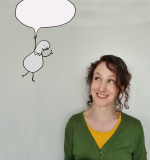 Heddwen Newton is an English teacher and a translator from Dutch into English. She thinks about languages way too much, for example about how strange it is that these little blurb things are written in the third person.

Heddwen has two passports, two children, two smartphones, two arms, two legs, and two email newsletters.

Reader feedback for the newsletter English and the Dutch, which examines all the ways Dutch speakers interact with the English language.
"It's funny, it's informative, I truly love it! Keep it up :)"
"It is amusing and funny but also educational. Bonus: it's about real life situations."
"Weer wat leuke dingen geleerd en erg gelachen om het filmpje!"
Reader feedback about the other newsletter, English in Progress, which is about how the English language is evolving and how it is spoken around the world:
"Wonderful work! I thoroughly enjoy these newsletters, and use some of the info while teaching English to my students."
"Love the variety, and the friendly informal tone!"
Also, academic Lynne Murphy, author of The Prodigal Tongue, about the differences between American and British English, recommended my newsletter in her newsletter. I was chuffed (BrE) and stoked (AmE)!
Meer lezen? GA NAAR EEN WILLEKEURIG ARTIKEL
Bron foto: eigen werk. Gebruiken mag, wel graag met verwijzing naar deze site.