Wat betekent het woord "merk"?
"Merk" is zo'n woord waarvan je denkt dat het heel makkelijk uit te leggen is totdat je er echt over na gaat denken. "Nike" is een merk, "Kruidvat" is een merk, "Samsung" is een merk. Het is dat wat ervoor zorgt dat je weet onder welke producent of productiegroep jouw product valt. Ofzo. Wikipedia legt het veel beter uit.
Wat is het probleem?
"Merk" is een false friend met het Engelse woord "mark". Nederlanders zeggen daarom nog weleens *What mark shoes are you wearing?" Dat klopt niet. "Mark" is een jongensnaam, of een markering. "Do you see that yellow mark on the pavement over there? That's where you can park your bike."
Hoe vertaal je "merk" het beste naar het Engels?
"Merk" is in het Engels "brand".
False Friend Friday
Elke vrijdag is het op deze site "False Friend Friday". Zelfs als je erg goed Engels spreekt, zijn valse vrienden goed om in de gaten te houden, want als je zo'n woord fout vertaalt, heb je het vaak zelf niet in de gaten terwijl je toehoorder zich achter de oren krabt. Vandaar dat ik er zoveel stukjes over schrijf!
Heb je een moeilijk te vertalen woord?
Is er een woord of uitdrukking waarvan je altijd denkt "hoe zeg ik dat nou in het Engels?" Laat het me dan weten! Dat kan gewoon hieronder in de comments of op mijn contactpagina.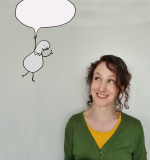 Heddwen Newton is vertaler en docent Engels. Naast hoezegjeinhetEngels.nl werkt ze sinds oktober 2022 aan "English in Progress", de Engelstalige versie van "Taalpost". Die bestond namelijk nog niet!
Disclaimer: deze site is geen woordenboek. Mijn vertalingen zijn de meningen van één mens, en mijn voorbeelden zijn zelfverzonnen. Meer weten? Kijk dan bij de veelgestelde vragen.