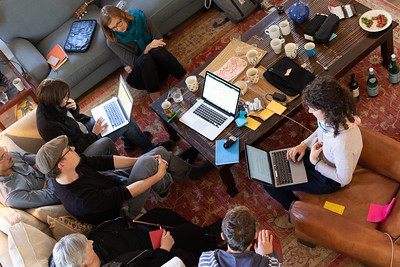 Ik heb nog geen Engelse vertaling gevonden voor "meedenken" waar ik echt tevreden over ben. Hieronder doe ik een paar suggesties, maar zoals je zult zien zijn alle mogelijkheden niet zo mooi als het simpele "meedenken".
Kun je even met me meedenken?
Can I pick your brain for a minute?
Do you have a minute to brainstorm solutions for this problem I am having?
Can you help me flesh out my idea?
I'm trying to figure this out, can you give me some advice?
Can I bounce my ideas off you?
Can we put our heads together for a minute?
Bedankt voor het meedenken!
Thanks for the input!
Thanks for your help!
Thanks for your suggestion!
Thanks for the advice!
Thanks for contributing your ideas!
Denken jullie even met Steffi mee?
Let's put our heads together and help Steffi with her problem.
Let's help Steffi flesh out this idea.
Let's all brainstorm about Steffi's problem.
Let's discuss ideas with Steffi.
Can you help Steffi out with her problem?
Do you have any ideas that might help Steffi?
Can you give Steffi some advice?
We denken graag met u mee.
We are confident that, together, we can find a solution to any problem.
We are happy to brainstorm out-of-the-box solutions with you.
We are open to discuss anything.
We verwachten van je dat je goed kunt meedenken.
We expect you to be flexible.
We expect you to be open to new ideas and happy to brainstorm solutions.
Welke vertalingen vind ik niet zo goed?
Sommige (online) woordenboeken geven "to think along with". Mijn instinct was al heel lang dat dat geen goede vertaling was, maar ik kon mijn vinger er niet helemaal opleggen. Daarom heb ik een vragenlijst uitgezet.
Van 584 mensen, allemaal boven de 21 en niet Nederlandstalig, gaven 62,4% aan dat ze "to think along with" geen goed Engels vonden.
Toen ik ze vroeg naar de betekenis, was dit het resultaat: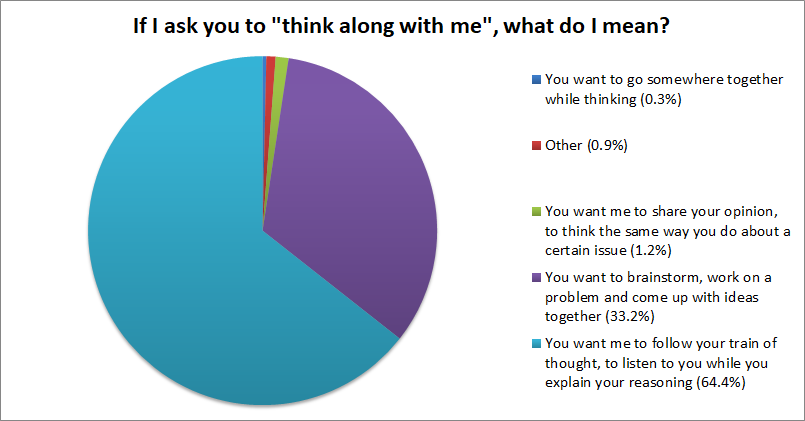 Slechts een minderheid had de voor Nederlandse begrippen "juiste" vertaling voor ogen.
Wil je zien hoe ik dit onderzoek heb uitgevoerd? Kijk dan hier.
Hieronder een aantal opties. Zoals je zult zien zijn er geen vertalingen die de betekenis van "meedenken" perfect omzetten. Dit is één van die prachtige Nederlandse termen die gewoon geen goede Engelse tegenhanger heeft.
Wat betekent "meedenken"?
Als iemand vraagt "kun je even met me meedenken?" dan willen ze graag een probleem aan je voorleggen waar ze niet uitkomen, zodat jullie samen kunnen nadenken over een oplossing voor dat probleem.
Vaak wordt het ook gebruikt om aan te duiden dat iemand flexibel is. "Ons bedrijf denkt graag met je mee!" betekent dat het bedrijf bereid is om samen oplossingen te zoeken en ook flexibel is in het implementeren van die oplossingen, door bijvoorbeeld iets anders te doen dan normaal.
Denk je mee over meedenken?
Artikelen waar ik niet tevreden ben over mijn eigen antwoord geef ik de categorie "meedenken welkom" mee, dus het is wel toepasselijk dat "meedenken" ook in deze categorie hoort.
Heb je een mooi idee voor de vertaling van "meedenken"? Ik hoor het erg graag in de comments hieronder!
Dit artikel is op 19-02-2022 aangepast omdat ik deze comic tegenkwam en bedacht dat "to flesh out an idea" ook wel een goeie is voor "meedenken". Op 09-09-2022 heb ik de volgorde aangepast zodat de vertaling bovenaan staat. (Want dat is uiteindelijk waarom de meeste mensen naar mijn site surfen!)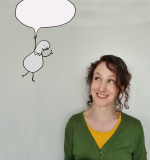 Heddwen Newton heeft intussen al 555 woorden en uitdrukkingen behandeld op hoezegjeinhetEngels.nl. Voor 2 Euro kun je haar daarvoor bedanken. Heddwen is docent en vertaler Engels.
Disclaimer: deze site is geen woordenboek. Mijn vertalingen zijn de meningen van één mens, en mijn voorbeelden zijn zelfverzonnen. Meer weten? Kijk dan bij de veelgestelde vragen.
Bron foto: flickr.com/photos/booksprints