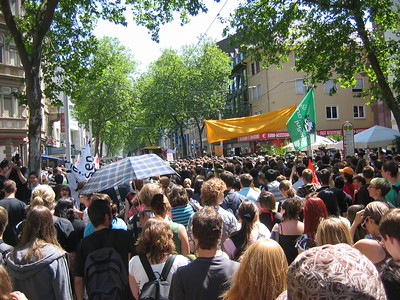 Dit is één van de grappigere False Friends als hij misgaat: het Nederlandse woord "burger", als je verwijst naar een mens, is in het Engels niet "burger" maar "citizen" (= een inwoner van een land) of "civilian" (= een niet-militair).
Als Engelstaligen het woord "burger" horen, denken ze aan een hamburger, zoals in het plaatje hieronder. Best grappig dus, als een Nederlander iets zegt als "The Netherlands must protect its burgers"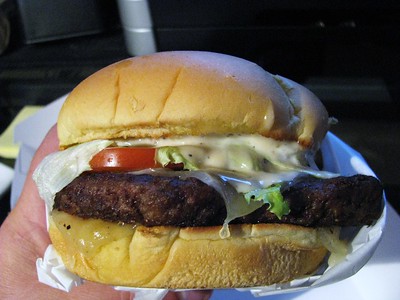 Die andere "burger" is ook een false friend
Als we toch bezig zijn, als we het hebben over de burger die je kunt eten is er óók iets waar Nederlanders op moeten letten. In het Engels verwijzen de woorden "burger" en "hamburger" naar de hele hamburger, dus het brood én het vlees samen.
In het Nederlands noemen we zo'n cirkelvormig stuk vlees (zonder broodje, dus) óók een "hamburger" of "burger", maar dat doen ze in het Engels niet. Het vlees heet een "hamburger patty" (patty = een samengeplet stukje halfnat gehakt spul, meestal vlees, maar hoeft niet (ja, ik heb het ook niet verzonnen)). Het broodje heet een "hamburger bun" (bun=broodje).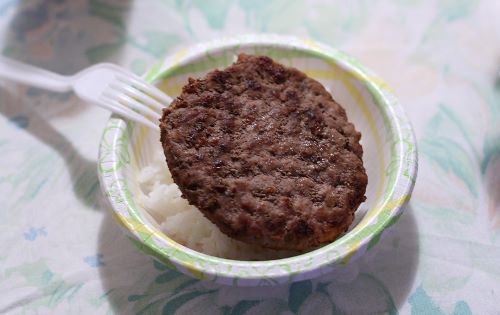 Leuk weetje
Het woord "hamburger" komt van de stad "Hamburg", dus het was niet oorspronkelijk een broodje met ham zoals sommige mensen wel denken.
Nog een leuk bonusweetje: in Engelstalig gebied woedt een heftige discussie over de vraag "is a hamburger a sandwich?" Geen grap. Als je met Engelstaligen een biertje drinkt, en je wil graag ruzie in de groep, dan is dit een prima vraag om in de ronde te werpen.
False Friend Friday
Elke vrijdag is het op deze site "False Friend Friday". Zelfs als je erg goed Engels spreekt, zijn valse vrienden goed om in de gaten te houden, want als je zo'n woord fout vertaalt, heb je het vaak zelf niet in de gaten terwijl je toehoorder zich achter de oren krabt. Vandaar dat ik er zoveel stukjes over schrijf!
Dit artikel is op 16-09-22 bijgewerkt. Paul maakte in de comments de geheel juiste opmerking dat "civilian" niet de juiste vertaling is voor "inwoner van een land", maar alleen voor "niet-militair". Bedankt Paul! Toen ik het artikel vervolgens ging aanpassen, zag ik dat ik de hele bespreking van de hamburger als stuk vlees vergeten was, dus die heb ik nu ook toegevoegd.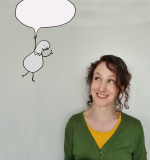 Heddwen Newton is an English teacher and a translator from Dutch into English. She has two email newsletters:
English and the Dutch is for Dutch speakers looking to improve their English, but also for near-native speakers who write, translate into, or teach English. Also interesting for people who like to compare Dutch-speaking culture to everybody else in the world.
English in Progress keeps English speakers up to date on the latest developments in the English language. Subscribers are mostly academics, English teachers, translators and writers.
Meer lezen? GA NAAR EEN WILLEKEURIG ARTIKEL
Disclaimer: deze site is geen woordenboek. Mijn vertalingen zijn de meningen van één mens, en mijn voorbeelden zijn zelfverzonnen. Meer weten? Kijk dan bij de veelgestelde vragen.
Bronnen foto's: burgers die gebruikmaken van hun demonstratierecht: flickr.com/photos/michitux, hamburger: flickr.com/photos/drb62, stuk vlees: flickr.com/photos/randychiu