Wat betekent het?
"Een warm applaus voor Michael, hij heeft dit weekend zijn eerste marathon gelopen!"
"Een warm applaus voor…", "een hartelijk applaus voor…" of gewoon "een applaus voor…" is iets dat je zegt als iemand een applaus verdient omdat ze iets bijzonders hebben gedaan of een bijzonder persoon zijn. Het wordt meestal letterlijk bedoeld, we verwachten dat de mensen in de ruimte écht applaudiseren voor die persoon.
We kunnen het ook schrijven, bijvoorbeeld op sociale media, maar dat is iets minder gebruikelijk.
De term leent zich ook goed voor sarcastisch gebruik. "Nou jongens, een warm applaus voor Lisa die eindelijk heeft begrepen hoe de vaatwasser werkt."
Wat is het probleem?
*A warm applause* klinkt raar in het Engels, niet omdat applaus in het Engels niet warm kan zijn (dat kan namelijk best) maar omdat we in het Engels eerder spreken van "a round of applause". Verder is er eigenlijk weinig problematisch aan het vertalen van deze uitdrukking.
Hoe vertaal je "een warm applaus" naar het Engels?
De beste vertaling is "please give a warm round of applause to/ for…". Je kunt ook kiezen voor "please put your hands together for...".
Dan hebben we ook nog "please give a big hand to…" of "please give it up for…" maar die twee zijn wat gevaarlijker voor een internationaal publiek omdat veel mensen die Engels als tweede taal spreken ze niet zullen begrijpen. Voor native speakers zijn het volledig normale uitdrukkingen maar niet-natives hebben misschien zoiets van "hoezo moet ik iemand een grote hand geven?" of "wat moet ik opgeven?"
Help je mee dit artikel te verbeteren?
Ik ben ook maar een mens, en soms heb ik iets mis. Weet jij een vertaling die ik nog niet had verzonnen, of heb je iets anders over dit artikel aan te merken? Ik hoor het heel graag! Laat het me hieronder weten, of stuur een mail naar info (a) hoezegjeinhetEngels.nl. Ik pas zo nodig mijn artikel aan, zodat bezoekers aan mijn site altijd de best mogelijke informatie krijgen!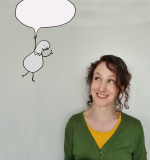 Heddwen Newton is an English teacher and a translator from Dutch into English. She has two email newsletters:
English and the Dutch is for Dutch speakers looking to improve their English, but also for near-native speakers who write, translate into, or teach English. Also interesting for people who like to compare Dutch-speaking culture to everybody else in the world.
English in Progress keeps English speakers up to date on the latest developments in the English language. Subscribers are mostly academics, English teachers, translators and writers.
Meer lezen? GA NAAR EEN WILLEKEURIG ARTIKEL
Disclaimer: deze site is geen woordenboek. Mijn vertalingen zijn de meningen van één mens, en mijn voorbeelden zijn zelfverzonnen. Meer weten? Kijk dan bij de veelgestelde vragen.