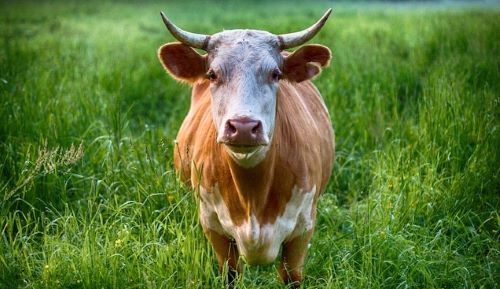 Hoe leuk het ook klinkt, *a truth like a cow* is geen goed Engels. En dat is jammer, want een echt lekkere vertaling is er niet. Zoals altijd doe ik hieronder een poging.
Als je per se een bestaande Engelse uitdrukking wilt als vertaling, dan kom je uit bij "truer words were never spoken". Die kun je echter niet altijd inzetten (ik zou hem bijvoorbeeld niet gebruiken bij iets wat je zelf zegt, komt een beetje arrogant over 😉 ). Bovendien zit de betekenis er niet in dat de waarheid zo overduidelijk is. Je bent vooral aan het slijmen.
Andere opties zijn:
that's an obvious truth / an obvious fact / obviously true
that's self-evident / a self-evident fact
that's plainly true
that's glaringly self evident
En dan nog een paar die je niet altijd in kunt zetten, maar wel goed om te noemen:
One of life's great truths
Well, ain't that the truth (US Engels, spreektaal)
That holds true for all of us
And that's a fact
That's very true
Deze vertaling vind ik niet zo goed
Woordenboeken geven als vertaling "a truism". Ik heb hier twee problemen mee. Ten eerste is het geen spreektaal. Waar een waarheid als een koe heerlijk aards en alledaags Nederlands is, is het woord "truism" meer iets voor in een artikel door een academicus of onderzoeksjournalist.
Ten tweede is een "truism" óók een cliché. Een "truism" is een uitspraak die vaak herhaald wordt en door iedereen als waar wordt gezien. Dat clichématige zit niet in "waarheid als een koe". (Vind ik tenminste).
Louis van Gaal
Ik ben een serie aan het doen over het Engels van Louis van Gaal. *A truth like a cow* is iets wat hij ooit gezegd zou hebben. De Engelstalige journalisten in de kamer zullen vast gegniffeld hebben, maar ik vind het wel charmant, eigenlijk. Iets dat een Engelse dichter ook zomaar bedacht zou kunnen hebben. Heerlijk aards, aanwezig, en wáár, zo'n koe.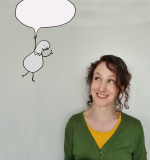 Heddwen Newton is an English teacher and a translator from Dutch into English. She thinks about languages way too much, for example about how strange it is that these little blurb things are written in the third person.

Heddwen has two passports, two children, two smartphones, two arms, two legs, and two email newsletters.

Reader feedback for the newsletter English and the Dutch, which examines all the ways Dutch speakers interact with the English language.
"It's funny, it's informative, I truly love it! Keep it up :)"
"It is amusing and funny but also educational. Bonus: it's about real life situations."
"Weer wat leuke dingen geleerd en erg gelachen om het filmpje!"
Reader feedback about the other newsletter, English in Progress, which is about how the English language is evolving and how it is spoken around the world:
"Wonderful work! I thoroughly enjoy these newsletters, and use some of the info while teaching English to my students."
"Love the variety, and the friendly informal tone!"
Also, academic Lynne Murphy, author of The Prodigal Tongue, about the differences between American and British English, recommended my newsletter in her newsletter. I was chuffed (BrE) and stoked (AmE)!
Meer lezen? GA NAAR EEN WILLEKEURIG ARTIKEL
Disclaimer: deze site is geen woordenboek. Mijn vertalingen zijn de meningen van één mens, en mijn voorbeelden zijn zelfverzonnen. Meer weten? Kijk dan bij de veelgestelde vragen.
Bron foto: Pixabay