Betekenis 1: niets is gratis
"Voor niets gaat de zon op" of "voor niets komt de zon op" betekent: het enige ter wereld dat écht gratis is, is het opkomen van de zon. Al het andere, in andere woorden, kost geld. Dus als iets gratis lijkt of gratis wordt aangeboden, dan kun je ervanuit gaan dat de aanbieder toch een manier heeft om er geld aan te verdienen, want: voor niets gaat de zon op!
Welke vertalingen vind ik niet zo goed?
Een letterlijke vertaling, iets in de trant van "only the sun comes up for nothing" is in dit geval niet goed. Het is in het Engels geen uitdrukking en de betekenis is ook niet superduidelijk; een Engelsman zal het misschien wel kunnen raden maar zal daar wel over moeten nadenken. Bovendien is er gewoon een mooie Engelste uitdrukking die hetzelfde betekent (zie hieronder).
Je kunt er ook voor kiezen om de betekenis te vertalen, en iets te zeggen als "nothing in this world is free" of "nothing costs nothing". Dit is okee, maar let wel even op hoe het klinkt. Ik heb bv ook de vertaling gezien "nothing in this life comes free of cost" en dat klinkt gewoon houterig en lelijk.
Wat is de beste Engelse vertaling als je wilt zeggen dat niets gratis is?
In het Engels hebben we een uitdrukking die hetzelfde betekent: "There's no such thing as a free lunch"
Een andere Engelse uitdrukking is "you don't get something for nothing", maar die met die lunch is gewoon veel leuker, toch 😉
Zoals hierboven genoemd kun je ook iets zeggen als "nothing in this world is free" of "nothing costs nothing", maar dat zijn dus geen vaste Engelse uitdrukkingen.
Betekenis 2: niets gaat vanzelf
De uitdrukking kan ook gebruikt worden om te zeggen dat alles moeite kost, en dat je dat moet accepteren. Denk aan een trainer die iemand aanmoedigt: "ik weet dat het pijn doet, jongen, maar voor niets komt de zon op!"
Beste vertaling voor de betekenis "alles kost moeite"
Als we het niet over geld hebben, maar over moeite, dan kan de vertaling zijn "no pain, no gain!" en als je er iets voor moet opofferen, dan is een mooie: "you can't make an omelette without breaking some eggs"
Ook hier past bovenstaande, naar mijn mening wat saaie, uitdrukking "you don't get something for nothing".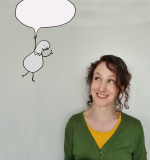 Heddwen Newton is an English teacher and a translator from Dutch into English. She has two email newsletters:
English and the Dutch is for Dutch speakers looking to improve their English, but also for near-native speakers who write, translate into, or teach English. Also interesting for people who like to compare Dutch-speaking culture to everybody else in the world.
English in Progress keeps English speakers up to date on the latest developments in the English language. Subscribers are mostly academics, English teachers, translators and writers.
Meer lezen? GA NAAR EEN WILLEKEURIG ARTIKEL
Disclaimer: deze site is geen woordenboek. Mijn vertalingen zijn de meningen van één mens, en mijn voorbeelden zijn zelfverzonnen. Meer weten? Kijk dan bij de veelgestelde vragen.