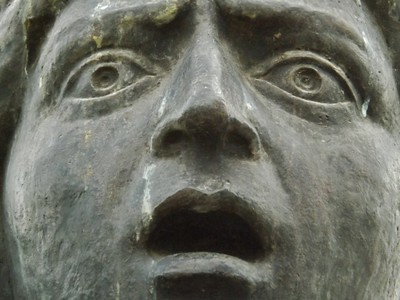 "Versteend zijn van angst" is geen hele moeilijke uitdrukking om naar het Engels te vertalen, maar ik struikelde er laatst over toen ik met mijn zus aan het kletsen was* (in het Engels, dus). Ik denk dat dat komt omdat mijn tweetalige brein met steen bezig was, en tja, *stoned with fear* is wel grappig, maar niet de goede vertaling!
De mooiste vertaling vind ik "paralysed with fear", omdat dat goed uitdrukt wat er aan de hand is. "Frozen with fear" is ook prima.
Deze vertalingen liever niet
In het Engels hebben we ook een woord dat letterlijk "versteend van angst" betekent, namelijk "petrified". ("To petrify" betekent letterlijk "verstenen" en wordt gebruikt als men het heeft over fossielen.)
Alleen door de jaren heen is het woord "petrified" "heel erg bang" gaan betekenen, zonder die bevriezing van je lichaam. In het Engels kun je best zeggen "he ran away, petrified" terwijl in het Nederlands "hij rende weg, versteend van angst" nergens op slaat. Geen goede vertaling, dus.
Ik zie in online woordenboeken ook "petrified with fear". Dat kan wel, maar de bovenste twee opties worden vaker gebruikt. Voor Engelstaligen die niet weten wat "petrified" eigenlijk betekent, komt deze ook dubbelop over: "heel erg bang van angst".
*Ik weet niet meer waar we het over hadden, dat we zo'n nare uitdrukking nodig hadden. Het was in ieder geval niets ernstigs!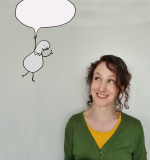 Heddwen Newton is an English teacher and a translator from Dutch into English. She has two email newsletters:
English and the Dutch is for Dutch speakers looking to improve their English, but also for near-native speakers who write, translate into, or teach English. Also interesting for people who like to compare Dutch-speaking culture to everybody else in the world.
English in Progress keeps English speakers up to date on the latest developments in the English language. Subscribers are mostly academics, English teachers, translators and writers.
Meer lezen? GA NAAR EEN WILLEKEURIG ARTIKEL
Disclaimer: deze site is geen woordenboek. Mijn vertalingen zijn de meningen van één mens, en mijn voorbeelden zijn zelfverzonnen. Meer weten? Kijk dan bij de veelgestelde vragen.
Bron foto: flickr.com/photos/youngshanahan