Als vertaler kom je vanalles tegen. Zo moest ik laatst een onderzoekje doen naar… hondenpoep. En nu mogen jullie daar ook over lezen 😀 .
Wat is een "uitlaatplek"?
Het woord "uitlaten" is in het Nederlands een beetje ambigu, officieel gaat het over met een hond naar buiten gaan en hem laten rennen en spelen, maar in de praktijk gaat het er vooral om dat je de hond zijn behoefte laat doen.
Ik kwam in een vertaling het woord "uitlaatplek" tegen waar mijn woordenboek "area where dogs can run free" van maakte terwijl ik sterk het idee had dat het om een ordinair poepveldje ging. Navraag bij een aantal hondenbezitters bevestigde mijn idee. "Bij 'uitlaatplek' denk ik aan een plek waar de hond zijn behoefte kan doen. Dat andere heet namelijk een 'losloopplek'," kreeg ik te horen, en bijna iedereen bevestigde dat (behalve een Vlaming, dus wellicht dat het daar anders is).
Hoe vertaal je "uitlaatplek" het beste naar het Engels?
Het Engels is net zo ambigu als het Nederlands en heeft ook geen woord waar superduidelijk uit naar voren komt dat het om behoefte doen gaat. Voor mijn vertaling heb ik uiteindelijk gekozen voor "dedicated dog area". Omdat het om een klein veldje ging. Grotere plekken worden in het Engels "dog park".
Een mooi woord voor "losloopgebied" is behalve "dog park" ook "off-lead area".
Heb je een moeilijk te vertalen woord?
Is er een woord of uitdrukking waarvoor je geen goede Engelse vertaling kunt vinden? Laat het me weten op mijn contactpagina, en ik probeer zo snel mogelijk te reageren.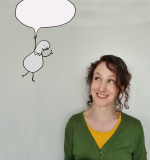 Heddwen Newton is an English teacher and a translator from Dutch into English. She has two email newsletters:
English and the Dutch is for Dutch speakers looking to improve their English, but also for near-native speakers who write, translate into, or teach English. Also interesting for people who like to compare Dutch-speaking culture to everybody else in the world.
English in Progress keeps English speakers up to date on the latest developments in the English language. Subscribers are mostly academics, English teachers, translators and writers.
Meer lezen? GA NAAR EEN WILLEKEURIG ARTIKEL
Disclaimer: deze site is geen woordenboek. Mijn vertalingen zijn de meningen van één mens, en mijn voorbeelden zijn zelfverzonnen. Meer weten? Kijk dan bij de veelgestelde vragen.