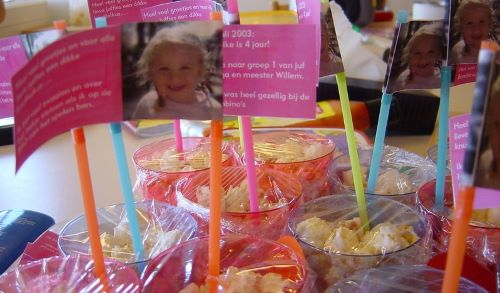 Als je jarig bent, dan trakteer je. Taart, of mandarijntjes, of blokjes kaas. Je neemt ze mee naar school of je werk en iedereen mag er eentje hebben. Maar hoe vertaal je "trakteren" in dit geval naar het Engels?
Het Engels heeft niet één zo'n handig woord als wij, maar er zijn wel genoeg opties. Hieronder wat vertaalvoorbeelden.
Jantje mag vandaag trakteren.
Jantje is allowed to hand out birthday treats today.

Jantje is allowed to share his birthday cake with the other children today.

Jantje has brought birthday sweets (UK)/ candy (US) today.

Jantje will be taking birthday treats into school today.

Jantje is bringing cupcakes as his birthday treat today.

Het bedrijf bestaat vandaag 10 jaar. Tijd om te trakteren!
The company celebrates its 10th anniversary today. Time for a delicious treat!

The company was founded ten years ago today. Time for an anniversary treat!

(…) Time to treat our staff to XXX.

(…) Time to spoil our staff with XXX.
Help je mee dit artikel te verbeteren?
Ik ben ook maar een mens, en soms heb ik iets mis. Weet jij een vertaling die ik nog niet had verzonnen, of heb je iets anders over dit artikel aan te merken? Ik hoor het heel graag! Laat het me hieronder weten. Hoe je dat doet, lees je hier. Anoniem, je hoeft niet eens een naam of e-mailadres aan te geven! Ik pas zo nodig mijn artikel aan, zodat bezoekers aan mijn site altijd de best mogelijke informatie krijgen.
Heb je een moeilijk te vertalen woord?
Is er een woord of uitdrukking waarvoor je geen goede Engelse vertaling kunt vinden? Laat het me weten op mijn contactpagina, en ik probeer zo snel mogelijk te reageren.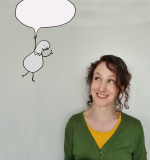 Heddwen Newton is an English teacher and a translator from Dutch into English. She thinks about languages way too much, for example about how strange it is that these little blurb things are written in the third person.

Heddwen has two passports, two children, two smartphones, two arms, two legs, and two email newsletters.

Reader feedback for the newsletter English and the Dutch, which examines all the ways Dutch speakers interact with the English language.
"It's funny, it's informative, I truly love it! Keep it up :)"
"It is amusing and funny but also educational. Bonus: it's about real life situations."
"Weer wat leuke dingen geleerd en erg gelachen om het filmpje!"
Reader feedback about the other newsletter, English in Progress, which is about how the English language is evolving and how it is spoken around the world:
"Wonderful work! I thoroughly enjoy these newsletters, and use some of the info while teaching English to my students."
"Love the variety, and the friendly informal tone!"
Also, academic Lynne Murphy, author of The Prodigal Tongue, about the differences between American and British English, recommended my newsletter in her newsletter. I was chuffed (BrE) and stoked (AmE)!
Meer lezen? GA NAAR EEN WILLEKEURIG ARTIKEL
Disclaimer: deze site is geen woordenboek. Mijn vertalingen zijn de meningen van één mens, en mijn voorbeelden zijn zelfverzonnen. Meer weten? Kijk dan bij de veelgestelde vragen.
Bron foto: flickr.com/photos/koekiehaas (cropped), CC BY 2.0 (de jongedame in kwestie is nu 23 jaar oud als ik zo even reken – wat een raar idee)